Francesco D'Agostino, a sound engineer from Calabria, has been working with Gen Rosso for a couple of years. "My life has changed radically. I am a miracle," he tells us.
"I would not like this testimony to focus on my change; I want to talk about the fact that I have met people who truly live the Gospel, friends who are really willing to give their lives for me.  They are friends who make me feel that I can truly start over every day, because they accept me as I am and in the face of my miseries, they do not reject me, but welcome me. I am a miracle, thanks to them".
Francesco D'Agostino, a young man from Calabria who we often see playing the piano during the evening mass in the Maria Theotokos Shrine of Loppiano, voluntarily insists on the word "really" as he begins to tell us his story. Perhaps it is because he has seen and experienced so many lies! However, let us start at the beginning.
"In my small town, I grew up very happy. I had my bicycle, my little friends… Of course, I was a naughty child, as are many free and happy children.
At 12 years old, his first approach to music was when he and his cousins, all more or less the same age, formed a little musical band: "I was even happier, also because there were people around us, starting with my father, who were musicians, some even at an international level".
In 2000, Francesco was 20 years old. That year marked the first big turning point in his life: his parents separated. "I did the same things that until a short time before fulfilled me, but now they didn't have any meaning for me anymore". He experienced suffering, a suffering so acute that it pushed him to change everything and leave.
"I was alone and without money. I was working as a bricklayer but in my mind, music and happiness always went together. I could not have reached one without the other. At that moment, however, I didn't have them and I started to look for other ways: drugs, alcohol…".
Yet Francesco did not give up and, pursuing his dream of working as a sound engineer, he moved to Rome. He spent his nights at the Termini Station, got a job as a dishwasher, and lived in an environment soaked in drugs, drug dealing, violence… "That happy child was no longer there," he tells us.
They say that whoever perseveres wins. The Calabrian boy managed to make his way, little by little, in the premises of Rome, until he became the youngest and best-paid sound engineer in the city: "My sudden success made me forget my suffering. I had everything I wanted. I was on the crest of success. My life was made up of work (7 days a week), of very short nights and continuous transgressions".
At that point, he made a decision: he had to look more handsome. "I weighed 120 kilos (265 lbs.) and I decided to lose weight, but without having a special diet. I simply stopped eating: in 5 months I lost 40 kilos (88 lbs.)".
As you can imagine, such organic stress, mixed with overwork, drugs, etc. caused a very strong psychic imbalance: "During one of my strongest panic attacks, I left everything and everyone and went back to Calabria".
After a year and a half, his friends convinced him to get treatment and Francesco came back to life.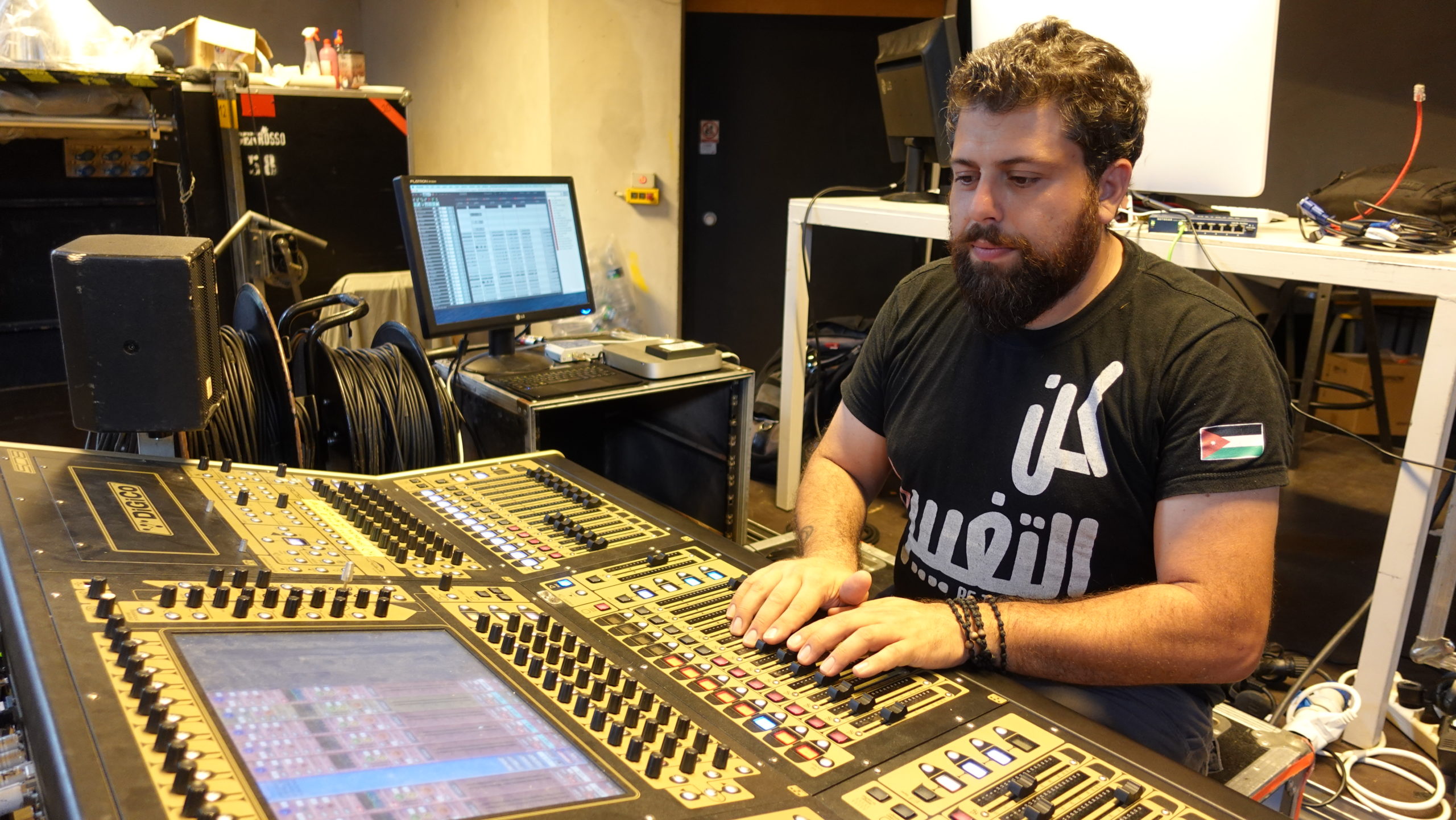 This brings us to 2010, the year in which, thanks to a friend, he met the Renewal Charismatic Movement: "I had bought a CD with their songs and in the long drive from Rimini to Palmi, Calabria, I did nothing but listen to them and cry. In fact, I was sobbing, screaming. It was as if in my life what was happening was what one of the songs was repeating: "I surrender to your love"".
However, as he approached the sacraments and started to play in a revival band, a new enemy entered his life: gambling, the slot machines that swallow money and the future. From the working point of view Francesco rose back up and a company that is at the top in the music field in Italy hired him. He earned well again, but lost everything at the slot machines.
Until one day, on July 29, 2016, he arrived in Salerno for a concert. The diocese had organized a vigil at the same time as WYD in Krakow. The invited group was Gen Rosso and the Renewal group, in which Francis worked, would act as their wingman. "The first one who came to meet me was Max (Massimiliano Zanoni ed.) with that bright smile and bright eyes. He pointed to me at the mixer: "You are at home!" And inside me, I thought: "These are strange people". We worked together all night to solve a technical problem".
During rehearsals and the concert, Francesco followed those guys with his eyes: "I looked at how they talked to each other. I expected to find the same competition that there was always in our work environment, instead they helped each other, they were kind to everyone, but at the same time they had a great professionalism. All of these shocked me".
Thus, an occasional collaboration with Gen Rosso began, until Francesco made another radical decision: to move to Loppiano. "In Rome I was working in a company where I dreamt of working, but I kept thinking that that wasn't the life I wanted. I had been in Portugal with Gen Rosso and the tour ended in Fatima. One night I went alone to pray. I felt at home and I had the feeling that this was the place I had to go". Listening to his story now, it makes one think that a circle had been closed the day he arrived with his suitcases in Loppiano, in the "Mariapolis", the city of Mary.
"Since I have been here, I have been able to meet Chiara Lubich and I have completely fallen in love with her ideal of unity. Now I no longer have the desire to gamble. I am healed. This is the life that I would like to live forever. So far, it is the most beautiful gift that God has given me. What I was lucky enough to discover is that there is a place, Loppiano (but there are many Loppianos in the world), where the Gospel is lived regardless of how you are, who you are, what you have done. God is giving me back the pureness of heart. Every now and then I feel like that child who lived happily…"