Giuseppe Ruggeri, known as "Serdio", focolarino carpenter, an artist of the art of love, passed away on Monday, October 19, 2020. Here are a few flashes of his adventurous life.
Giuseppe was originally from Ghiare di Berceto, in the province of Parma. He lived in Cameroon, Kenya, Pakistan, Uganda and finally, in Montet, in the Focolare little city of Switzerland, and from here he arrived in Loppiano in 2015. He lived in the focolare called New Unity, along with other elderly focolarini, and in March 2020, he celebrated his 80th birthday.
His Youth
Speaking of his youth, Giuseppe remembered living as if between two fires. On the one hand, the simple religiousness assimilated in his family (which he loved so much) and, on the other, the anticlericalism typical of the working class environment of the past, in particular, of Emilia Romagna. "The attraction for God has always remained predominant in me, even if I did not attend church too much, on the contrary I was far away from it" he recounted.
After a few years of apprenticeship in a carpentry shop, Giuseppe left for military service, got engaged, and finally moved to Parma to work as a carpenter at the Salvarani company.
The meeting with the Focolare
Around the middle of 1964, his sister Lucia gave him a book entitled "Tre focolarini" written by a certain Igino Giordani, which told the story of three lay people – an employee, a deputy and a simple worker – who aspired for holiness. In this regard, Giuseppe recounted: "I read it in one breath and was very surprised that there could be people who lived the Gospel in such a radical way. I immediately looked for the focolarini of Parma and the first one I met was Guglielmo Curti. I often went to visit them and every morning on my way to work, I would pass in front of the focolare: their life attracted me".
In 1965, he participated in his first Mariapolis in Merano, where he lived an intense experience of fraternity. This marked him deeply like a firebrand. Then, he visited the newborn Loppiano: "There, I saw the life of the focolarini of the school, and I felt that I was called to be a saint. The focolare, with all that it meant, attracted me strongly, but I was a simple worker, and I did not feel worthy of this great call. After a long reflection, however, in the autumn of 1966, I decided to go to Loppiano for the focolarini school".
Among his peers were other young men fascinated by that vocation: Valerio Lode Ciprì, Santino Zacchetti, Rod Gorton, Mario De Siati, Tanino Minuta, Mario (Julian) Ciabattini. It was a strong experience: "As days passed, I felt more and more in seventh heaven, almost transported into another reality".
Destination Africa
At the end of the school, it was suggested that he go to Cameroon, where the little city of Fontem was. It was a village that was being built in the Lebialem division in the southwestern region of Cameroon: the contribution of an expert carpenter would be valuable for the nascent African Mariapolis. The detachment from his family was not without pain, then there was not only the geographical leap, but also the cultural one: until then, he had seen Africa only on television.
«It was December 8, 1968; I left alone, at midnight. It was the first time I set foot on a plane, I was worried about what would happen to me, I did not know a word of English or French, and due to a misunderstanding in Douala, I had to spend the night at the Prosecutor's Office. Then there was the 450 km trip in a Land Rover on an almost impassable road during the last 50 kilometers. Finally, I arrived in Fontem! There, they welcomed me with such a feast that every fear passed and I felt at home. But where was the village I had imagined? The huts were scattered among the trees…everything had to be built. Get to work, then, I told myself.»
The following year, Chiara Lubich's visit to Fontem was fundamental."Shortly after my arrival, Chiara came to Fontem on January 1959 and focused on our mission there: not only to solve the social problem (even if there, to be credible, we needed to build hospitals, houses, put ourselves in service) but above all, we needed to offer a witness of God. She also spoke to us about Mary, whose presence she strongly felt in the nascent little city. And she foresaw that many would one day come from all over Africa to learn this new life of mutual love".
Giuseppe, during those days, wrote to Chiara, sharing his deepest thoughts. "I wanted to thank you for all these days spent with us here in Africa, which have always been a crescendo of Jesus in the midst. Dearest Chiara, I wanted to tell you that before I spoke to you I was a little afraid; now I am not. From our conversation, I felt you were like a mother. Today is a memorable day for me; I received a new name and the Word of Life. What a joy! The whole Mass was a growing union with Jesus and to Him, as a gift for your birthday; I wanted to offer all of myself so that all of us might become saints".»
"Serdio", servant of God
The Word of Life that Chiara had chosen for him, so creative and concrete, was taken from the book of Genesis: "Fill the earth and subdue it" (Gen 1:28). And his new name would be: Serdio, which meant "servant of God". Giuseppe-Serdio welcomed it with a promise: "I promise you," he wrote again to Chiara, "that I want to be that nothing, so that I can become a saint: I asked Jesus during Mass and I consecrated myself to Him for the rest of my life.
It was a committing promise, which had many challenges, such as that of inculturation, for example. "There is always the risk – he said – of making my point of view prevail with the carpentry workers; if I try to listen to them, instead of urging them to what was my way of working, in the evening the work would invariably be finished and we all became satisfied. Otherwise, the work would jam and relationships suffer. From the carpentry shop, where so many people passed by, I can say that I have noticed how the Gospel that we have tried to witness to (even with a piece of furniture made well) has taken root in the bangwa people without distorting it, indeed, exalting the values that it already possessed".»
Friends
Among the people with whom Serdio had bonded and shared more in this mission land are Marilen Holzhauser, one of Chiara's first companions, and Piero Pasolini, focolarino and physicist from the Romagna region in Italy.
Serdio remembered: "Marilen knew how to love with her heart, for me she was like a sister. He also wrote about her in a letter to Chiara Lubich: "One day, Marilen gave me a crucifix and said to me: "This is a gift from my mother that I care a lot about, but I want to give it to you because you will need it. And that's what it was.»
With Piero Pasolini, they shared a passion for building, for creativity… and not only that: "We did so many things together, I felt free to tell him everything, and he was free to tell me too. Once, a judgment regarding a person escaped me, and Piero made me understand, in no uncertain terms, that judgment is the worst thing that one can do… I would have liked to disappear; however, I have never forgotten those words.»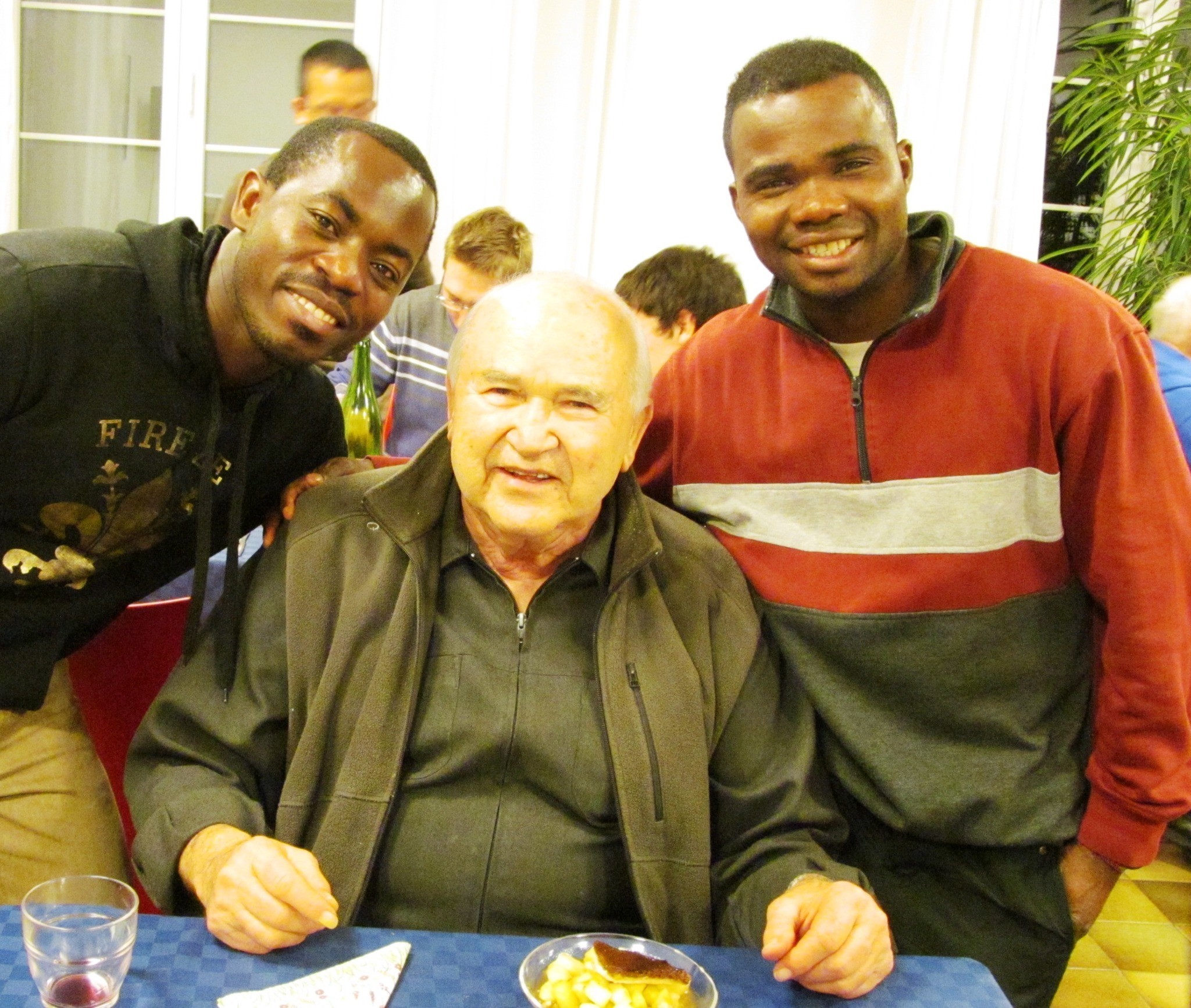 Other places
In his life, there were many planes on which Serdio got on: after Cameroon and Fontem, there was Nairobi in Kenya where he arrived to build the new little city and to give life to a new carpentry shop. The little city was dedicated to his friend Piero Pasolini, who died in 1981.  In 1985, he wrote to Chiara Lubich about his suffering in leaving Fontem and told her what he was doing in Italy at that time: looking for funds to buy carpentry machines for Mariapolis Piero. It was an opportunity he took to give the Ideal, and at the same time, he had already filled two containers with more than 40 machines. Chiara answered him, thanking him: "By loving Jesus Forsaken and your brothers and sisters, life can only go forth and give witness!
The next stages of his "holy journey" were Rawalpindi in Pakistan and Kampala, Uganda.
Montet and Loppiano
In the meantime, health problems developed and, after some years spent in Montet, Switzerland, he had been living in Loppiano since 2015.  He lived in the Focolare called New Unity, where God prepared him, day after day, for the encounter with Him; and he got there ready, with the lighted lamp of the only true love of his life. In November 1998, Città Nuova Magazine published excerpts from his story and an interview (signed by Oreste Paliotti) entitled "Serdio, Carpenter in Africa".