Città Nuova inaugurates the series "I Nuovi Colori del Mondo,"(The New Colors of the World) illustrated books for children from 5 to 8 years old. They are stories that give thought to human, social, civil, ecological and intercultural values, essential in building a better world. These values are revealed in this interview with the writer, Silvia Roncaglia, curator of the series.
Silvia, you are consultant and curator of the new Città Nuova series, "I Nuovi Colori del Mondo": how would you describe this series to your little readers?
To these readers, to whom we address, I would say that it is a series designed especially for them, just as they take their first steps in the wonderful adventure of reading books that are up-to-date, captivating, and with a lot of illustration.
What genres and stories can we expect?
The series is divided into three different guidelines and editorial trends, marked by three stamps, such as postal stamps, and they are: Messages in a Bottle, Rediscovered Treasures and All 'Aboard. So you can expect stories that are hidden between the lines, in a never didactic or rhetorical way, important educational messages: the "Messages in a Bottle" to make the new generations grow up with those human, social, civil, ecological and intercultural values indispensable to build a better world. In "Rediscovered Treasures", instead, we must expect to be surprised in finding precisely those timeless stories, those precious pearls that disappeared over the years from the catalog's history; catalogs of the great publishers, which we aim to dig out and bring back to life. Finally, launching "All'Aboard", the young reader will be able to sail through a sea of stories for everyone's tastes, for the pure pleasure of reading. Moreover, while discovering the unexplored territories of a new story, of different authors, genres and styles, one will acquire new skills in the adventure of reading.
In the books, particular attention is given to the graphic aspect: upper case, lower case, italic comics… why?
Addressing only the younger readers for now, the series offers a wide and complete range of approaches to reading, proposing the different characters of the language and different textual types. Our slogan is "The series that takes care of reading didactics", just to underline the special attention that is given to the delicate process of learning writing and reading, based on the most modern studies on the subject.
The series is addressed to children from five to eight years old: in your experience, how important is reading at that age?
I was an elementary school teacher and I know how important it is to "get off on the right foot". I used to say that for a teacher it is essential to know their pupils well with their tastes and characters, and the children's books, so that every child can meet the right book at the right time. It is a delicate moment, in this first phase of learning. To become discouraged because a book is too difficult or the reading is not very engaging can prevent the blossoming of that pleasure of reading, the only real requirement to become real readers.
Two books in the series are yours. They are: "Io ci tengo! Manuale per Supereroi Salvambiente", with the comments of Roberta Cafarotti (Earth Day Italia) and the illustrations of Maria Gianola; and then, "Ma che razza di razza è?", illustrated by Cristiana Cerretti. What message do they convey?
In fact, they are both stamped with a seal "Messages in a Bottle". The first, as the subtitle says, conveys an ecological message. Although very playful, it is a real manual for children from 6 years old and up. Its aim is to raise awareness, from an early age, to respect and to take care of the environment and it has been created with the partnership and advice of Earth Day Italy.
The second was already in the catalog history of "I Colori del Mondo" (The Colors of the World), an award-winning title that has been renewed with new text and illustrations. "Ma che razza di razza e'?"(But what kind of race is it?), was already marked for its message of equality in terms of interculture. It was in fact revised and renewed in the light of the latest discoveries in the genetic field and the consequent change of the concept of race.
This year we celebrate the centenary of the birth of Gianni Rodari, Italian writer loved by generations and generations of children for his fanciful stories and nursery rhymes still steeped in current events… is there anything of his style, his thought, or his way of telling stories that are in the series "I Nuovi colori del mondo"(The New Colors of the World)?
There is much more. I define IL PUNTO DI DOMANDA (THE QUESTION MARK) as the icing on the cake. This very Rodarian text by Nicola Cinquetti and the happy intuition that made me point it out, was immediately approved by the editor Luca Gentile among the first 6 titles. It was illustrated by the great Antongionata Ferrari. After this Cinquetti won no less than the Andersen prize as best author of 2020 and IL PUNTO DI DOMANDA was released in bookstores on November 22nd with this dedication of the author: "One hundred years ago Gianni Rodari was born: his inventions live happily in our memory" followed by the quote from "Il punto interrogativo" famous Rodarian rhyme. However, it is does not end here. On October 23rd (postponed because of Covid) when the Andersen prize was awarded in Genoa, Nicola Cinquetti was also invited to give a lecture on Gianni Rodari, whose birth centenary was celebrated at the same time. These were all very happy coincidences for our book and our new series.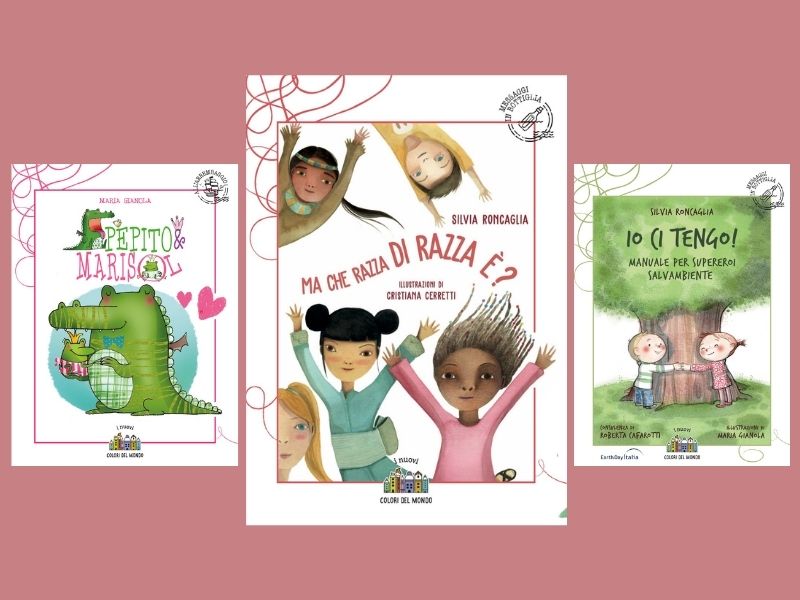 If you were to recommend a book from the series to give to our children or grandchildren next Christmas, which one would you propose?
It is hard for me to say because I love all six of the first books in this new series equally as if they were my children. "Il Punto di Domanda" is special and I explained why, but if the child or grandchild in question loves comics, then I would certainly give "Pepito and Marisol", two characters, a crocodile/dragon and a frog princess, that are truly delightful and unforgettable. If you prefer something with educational content "Io ci tengo!" or "Ma che razza di razza e'?". If you want a timeless character whom you and your children probably loved, then don't miss the return of "La signorina Giacoina,"(Miss Giacomina). However, if you can't give up the wintery and snowy atmosphere of Christmas, then certainly give "Potremmo anche essere amici," (We could also be friends) where there are plenty of snowy woods under a moonlight.