Albert Dreston passed away on August 30, 2019. He had been a teacher, theologian, focolarino and leader of many generations and of soccer in the Focolare town of Loppiano, in Italy where he spent 52 years of his life.
Who was Albert?
Albert had lived in Loppiano, Italy, since 1967. He was much esteemed by the thousands of young men and women whom he taught at the School of Formation for Focolarini in the Focolare town. He had created many bonds with the local area and with many families in the Valdarno region. He was an avid footballer and the main animator of the weekly football matches.
His other hobby was electronics and  over time he got many others interested in it, including the Gen Rosso and Gen Verde Focolare music groups. Most of all Albert was a generous friend to countless people who found in him someone who was open, candid and free.
His life was anything but easy. Born on February 13, 1939 in Castrop-Rauxel of Rhineland, Germany, his father died during the siege of Stalingrad. And it was in that very painful moment that Albert made the first great discovery of God. He recounts: "I was six years old when my father died on the [eastern] front. With his death, my whole world fell apart. Then, I suddenly felt a strong voice from within me, as if God was saying to me: 'You're not an orphan, I am your father!' And I suddenly answered: "Papa, my Daddy!" From then on, Albert no longer felt alone. 
Later, during a trip to the Holy Land, he was struck as he watched a child running after her father and shouting, "Abba, Abba, Abba!" So, Alberto also began to call God "Abba" (not "Abba" as in the Aramaic language spoken by Jesus, but "Abba" as that little boy was saying it to her father). This experience marked him for the rest of his life, also in his approach to theology: "We're the free children of a God, a papa, who loves us immensely." When he was around 18 years old at the college he attended in Munster, one of his kidneys had to be removed and it seemed he would not have long to live. It was during that time that he came across the focolare: "One day, some focolarinos came to share their testimony. They included Alldo Stedile, Giulio Marchesis and a few others. They talked to us about some young women in Trent, Italy, and Chiara, who lived with Jesus in their midst through their mutual love. I was totally struck by this possiblity of having Jesus in our midst. I, who would soon be on my way to Heaven, could already start living with Him. But the great novelty was: mutual love. The New Commandment doesn't say 'Love your neighbor," but 'Love one another,' and this is really the novelty that Jesus brings, the revelation that God loves us and that God is Love in himself. In 1958, Chiara allowed Albert to join the focolare community as a consecrated member.
Alberto recounts: "In 1959, I spent two months at the Mariapolis in Fiera di Primiero." Several letters that he wrote to Chiara Lubich date back to that period when Chiara was praying for his complete healing and recovery. In one of those letter he writes: "Often, especially when I felt my weakness, I saw that my illness, my sufferings, were riches, so that I would have at least something to offer to God . . . and I offer my life for Ut Omnes [John 17:21]." In 1960 he writes: "At the Mariapolis, my hope returned that I will get well, and also the will to get well. Because, after the Pact, a great desire suddenly arose in my heart to go beyond how I felt and to help in the triumph of the Immaculate Heart of Mary. And this gave me the strength to rest and take good care of myself in getting well, even though it wasn't always easy, thinking about how there is so much need for God in the world, and so much to be done. . ."
Alberto was a direct witness of Loppiano's birth while he was living in the same focolare community as Father Pascal Foresi. Alberto recalls: "I was with him right when the idea of Loppiano first came up. They were supposed to be selling the land, but Father Pascal said: 'Let's go to see it, the little city that Chiara envisioned could start there, a Mariapolis not only for vacations, but a permanent one.' And that's how Loppiano got started! "Alberto was closely involved in the fermenting of that dream of a little city: "Teachers had to be found, who could go there to live. It wasn't easy to find priests or Religious who were free to do that. Finally, he had an idea: Why not let some of the focolarinos study. I was attending the Lateran University and Father Foresi said to me: "You finish theology and then go to Biblical Studies and specialize in the Old Testament." And I said: "the New Testament" . . . "No, no," he insisted, "the Old." That's why I always say that they politely asked me, not if I wanted to do it, but just to do it." And whenever he told this story he would always smile as he went on to explain that those studies turned out to be important for his life because they led him to discover that the God of the Old Testament was the same God of the New Testament only "revealed" by Jesus in a complete way.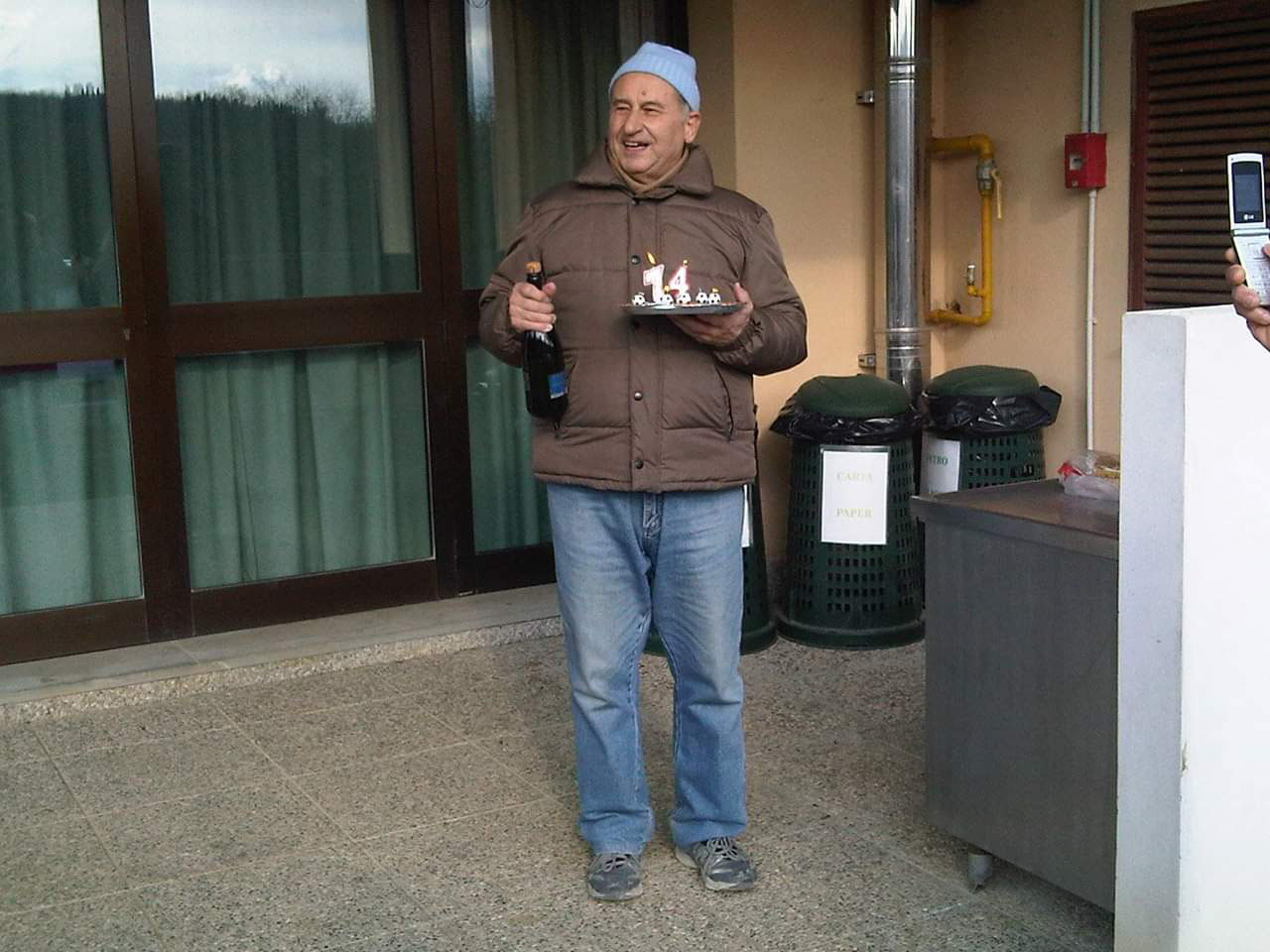 Albert did not publish much, only several articles and a book on the prophet Jeremiah. He preferred to write a prayerful form of poetry that rose from his study of the Old Testament, and it contained much wisdom. In the last period of his life, he gave his poems away as gifts to his friends. The following poem was read on the day of his funeral and seems to tell more than the others.
Life of Wonders (July 17, 2000, 11:30 p.m.)
Love God
with all your heart, with all your soul,
with all your mind, with all your strength!
Thus says the Old Testament Gospel,
thus repeats the Gospel
of the New Testament. . .
But when I die
I will be able – perhaps! –
to love you with my soul,

and with my mind,
and with my 'heart'
(in the biblical sense of with my whole being)
But I will no longer be able to love you
with all of my strengths
– And especially – with all of my "non-strengths" –
and with all of my "drives"
(the so-called 'instincts),
with all of my worries,
sorrows, tears and tribulations!
With all my aspirations
and delusions.
With all of my hopes
and with all of my failures!
With all of my (good) proposals
and all of my fiascos!
With all of my tears
and all my laughs!
With all of my sufferings and sorrows
and with all of my joys!
With all of that "infinity" of nuances
so linked to the material form
and to all its changes
and "disturbances". . .
Therefore, I want to love you in t h i s life
with the whole variety
of different shades
that I can have
only in this life
so "narrow" and so "miserly"
(as certain teachers would say) . . . !!!
Not only with the whole soul
and the whole mind,
but also the whole heart
– that is, with my being
"now here!" –
With all my strengths,
with all my drives
 – the instinct of self-preservation, of affirmation, of sexuality –
with which You have endowed us and furnished us with!
Then I'll discover,
and  see
and live
the entire myriad of shades
 – unimaginable in this life –
of love, giving, fullness,
beatitude, "intoxication"
with You!
forever!
For Eternity!
Fullness of life
without the shadows of death
from this life . . .
Hopes, deaths and graves,
resurrected and flowering in certainty
timeless and eternal.
Sufferings turned into treasures
tears transfigured
into diamonds of light. . .
Aspirations and poignant
longings
blossomed into fulfillments
unimagined. . .
Ah! How I wish – now –
that this life,
so strange,
so marvelous,
would perhaps be a love song
to Your Love!
A song made of marvelous notes
and of dissonant notes out of tune;
of peaceful skies
and of swirling storms;
of wondrous conquests
and of scorching failures:
S o n g of L o v e
forever
wherever
      whatever! . . .
As Your Son!. . .
For as long as the possibility is given to us
by this life
so wonderously normal!
Normally wonderous! . . .
That not even the angels
can dream of it.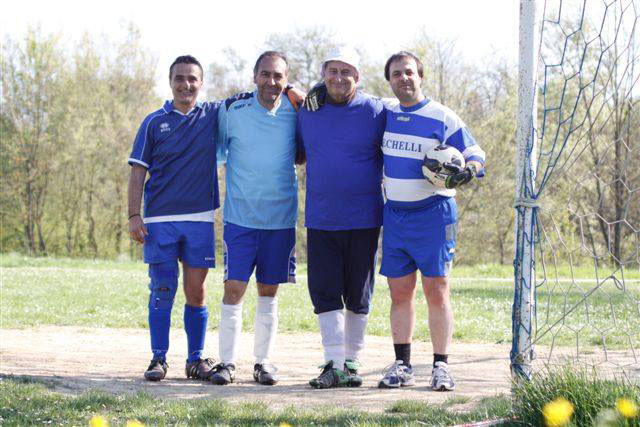 Finally, you cannot talk about Alber Dreston without mentioning his love of soccer. This is how Andrea Cardinali, the head of the local sport group, remembered him on the day of his funeral:
. . . We could pack entire trainloads of sportsmen and common players from every place in the world who, having played at least one game with him, would remember the temperament, the dedication, the famous goal-kick from the baseline, the Four Seasons fishermen's hat, the wool pullover and full-length trousers in the middle of July. His timing and sense of positioning distinguish him in all the eras of footballing ever lived. Soccer might have gone through changes, but him no. In a single game he is capable of being the trainer, the referee, the linesman, the center-back and, above all, the sport director. . . because, first of all, the teams had to be made, and he with a pair of strong defensemen (who might be Africans, Brazilians or Asians) managed to take them every time. The legendary captain!  
At one point, someone wondered if he could play again, if at the tender age of 75 it wasn't time to have a good farewell game, hang up his shoes and end this story with a flourish. Unknown to us, Albert, with your usual stubbornness you answered: "I'll go directly from the sport field to the holy field, the cemetery." It wasn't by chance that you left us on a Friday. As usual: perfect timing: for the last calls before Saturday, to make the teams and those kicks from the baseline . . . from the Avenue of Champs amid the Elysian Fields.
Happy Heaven to you, soccer player Alberto!
From you teammates and friends.