Loppiano is the city of the young, said its founder Chiara Lubich. Therefore the summer offerings at Loppiano could not be lacking in a variety of programs for children, youths and young adults:  educational holiday experiences in nature, play, sport and multiculturalism, amid the beauty and vastness of the green plateau on which Loppiano is constructed with vineyards, farmhouses and long rows of cypress trees.
GREST for children: "Discovering our love for nature."
For children aged 6 to 11, the citadel of Loppiano in collaboration with the Veraterra, Association presents GREST a program focused on discovering the beauties of the natural environment of the region, with experiences of relationship with the environment, flora, fauna and forest, including many of physical activities. Children will be encouraged to discover the values ​​that are expressed in the life of nature. Workshops and games will increase sensorial skills and personal talents, Peace Education, interculturality, the value of self and of the other understood as an enrichment and not as a reason to close in on one's own small world. Most activities will take place outdoors in the vast green spaces in which the citadel is located.
DURATION: 6 weeks, starting on June 21st
ACTIVITY HOURS: 8.30-16.30 (or 17.00)
CENTRAL OFFICE: Loppiano (Via san Vito, 48 – Figline and Incisa Valdarno, Italy)
INFO AND CONTACT: Tel. 055.9051102 E-mail: accoglienza@loppiano.it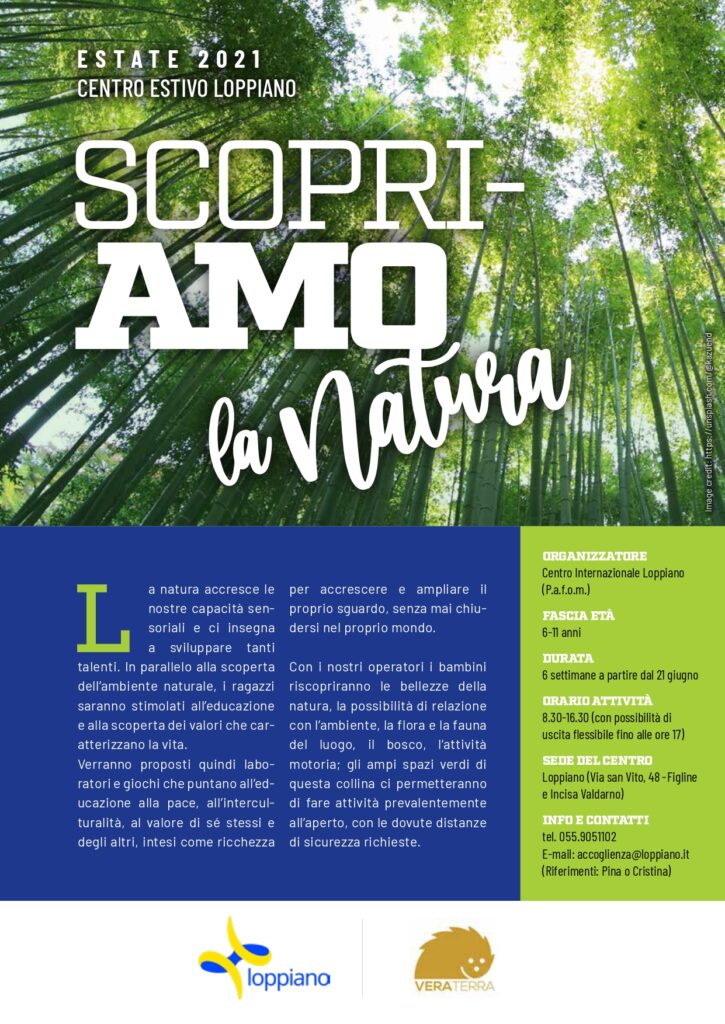 Start your travel: School Camp STArt your travel
Starting on June 21, 2021, teenagers from our region are welcome to attend study vacations organized by Loppiano in cooperation with the Agenzia Study Travel Academy. The study vacation, which lasts for 7 to 15 days, includes 20 weekly interactive English lessons. The vacation will also include sport and social events, coordinated by activity leaders. Other activities include:
Visit to Vallombrosa
Afternoons at the swimming pool
Nature workshops
Social action
An inspector from the Study Travel Academy will be on site.
DURATION: beginning June 21 
AGES: 12 -17 years.
COST: euro 150,00 per week, including Saturday excursion.
TO SIGN UP: studytravelacademy.com/loppiano/centre
PASSWORD: LOPPIANODAY
Work Site: Head, Hands, Heart
July 5 – 9, 2021. The Teens for Unity Head, Hands, Heart Work Site at Loppiano, open to teenagers of the same age. An experience of joining head, hands and heart in living for a culture of giving. During the work site experience the teens sill be engaged in the restructuring of the green path workshop with the Gen Verde International Music Group and with artist, Hung, as well as social service projects in the local region. The program will include sport events, sharing and dialogue on topics that are of interest to teenagers – all carried out in a spirit of living memorable moments, giving of oneself to others, and learning how to live fraternity.
INFO AND CONTACT: tel. 055.9051102
 E-mail: accoglienza@loppiano.it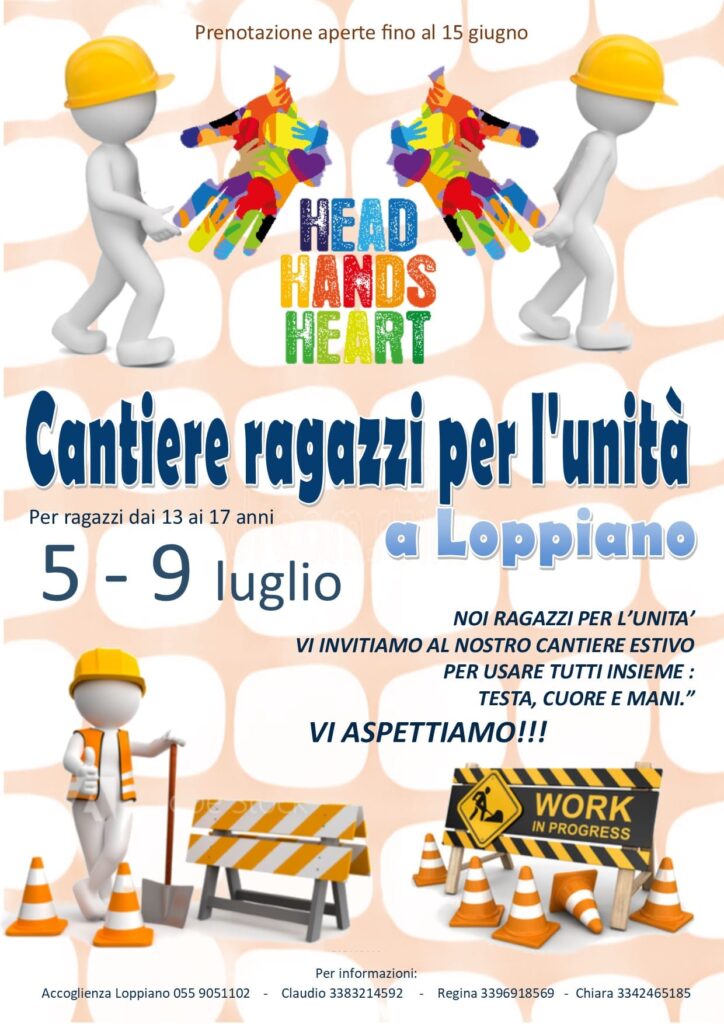 #loppiano experience
Summer in Loppiano is also for young people! People between the ages of 18 and 30 are invited to have a vacation experience at Loppiano on July 25 – 30, 2021. The program will include sport, dialogue, music, and visits in Nature with young people from all over the world.
INFO AND CONTACT: giovani@loppiano.it
OR: tel. 055.9051102
  E-mail: accoglienza@loppiano.it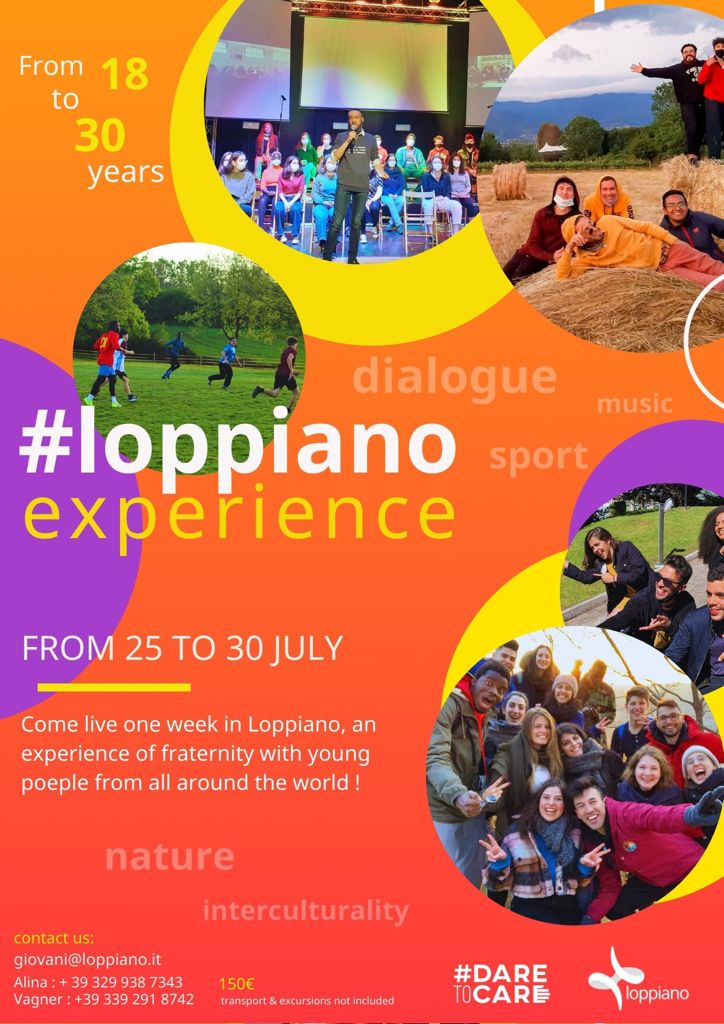 Loppiano is open and waiting for you!