Thirty-five years ago, one of the central figures in the history of the citadel of Loppiano died suddenly at the age of 61. He had been a partisan at a very young age, magistrate, focolarino and priest.

He was never an economist, company manager, entrepreneur or trade unionist, nor a worker or businessman, yet the Loppiano business center is named after him. The Lionello Bonfanti Business Center began in October 2006, when an Italian center for Economy of Communion companies was set up. And there was no doubt about whom it should be named after. Lionello had died twenty years earlier, on October 11, 1986, the day after his 61st birthday. Chiara Lubich wrote: "Lionello left us suddenly today. It really seems like Heaven chooses the most limpid, the most innocent ones . . ."
Lionello and the business center, two different but converging vocations that Chiara Lubich was able to bring together here at Loppiano, remind us that the "economic prophecy of the business center is conncected to the prophecy of the citadel. Lionello Bonfanti, focolarino since 1953, a magistrate by profession, lived in Loppiano for fifteen years."
In 1966 the Focolare foundress asked Lionello to move to the citadel, to oversee the building projects, from housing to roads, from workplaces to relations with the Municipality of Incisa in Val d'Arno and other regional institutions. Because of his role, he came to be affectionately called the "mayor" of the citadel. Lionello was involved in making decisions, mediating between different positions, recognizing and developing people's skills. It was all new and not so easy.
He welcomed ecclesiastical personalities, exponents of different religions, politicians and communicators. But the same care was extended to anyone who went up to Loppiano, the ones who went with something to give and those who went asking for advice, as well as those who were having marital problems. Someone once told Lionello that his patience with people was "even exaggerated". He would later write: "Patience is a force, given to us by God himself, so that we can 'see Him' in any situation that makes us suffer and to ensure that our relations with our neighbors are oriented towards deserving the presence of Jesus among us and 'seeing' Him so that we can 'see' the Father." He taught Social Ethics at the School of Formation for Focolarinos, which enriched the cultural heritage of his students, but also because of his great interest in politics from a very early age. When Italy entered the war, Lionello felt challenged and joined the resistance movement. In 1945 he was arrested and sentenced to death but, with the help of the jailer, he avoided execution.
Lionello left Loppiano in 1980 when Chiara Lubich asked him to represent the Focolare in several bodies of the Holy See and at the Italian Bishops Conference. The foundress wanted him to be at her side for the revision of the Statutes of the Work of Mary-Focolare Movement. Lionello left the citadel precisely when the municipal master plan was about to be approved, which would finally give the citadel urban recognition and a certain amount of autonomy.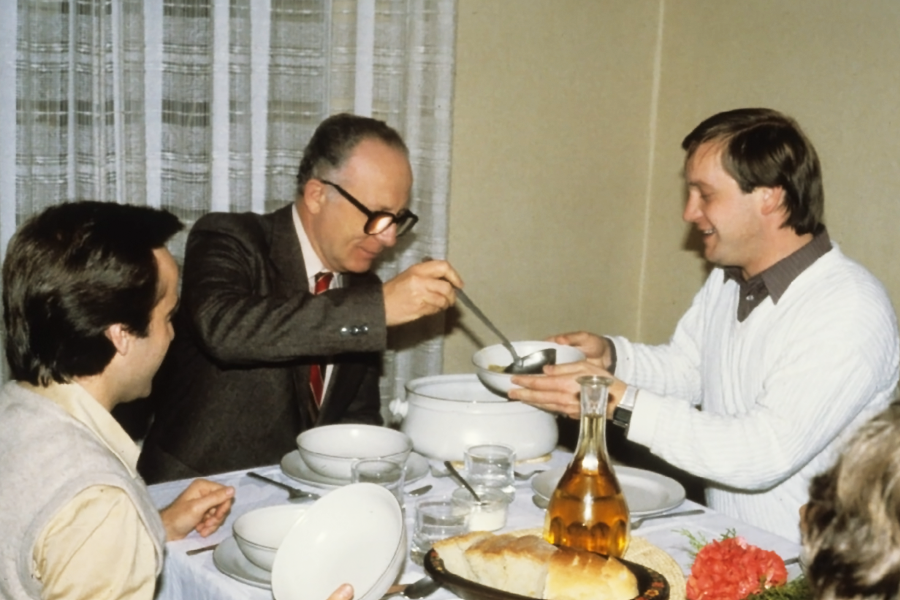 Lionello Bonfanti was born in Parma, Italy, on October 10, 1925 to a family with deep Christian values. He graduated in Law in 1947, magistrate in 1951 (the youngest in Italy) and then public prosecutor. He had a brilliant career as a magistrate. In 1950 he met Ginetta Calliari in Parma, one of Chiara Lubich's first companions. He found much more than what he was looking for. In 1953 he joined the community of consecrated focolarinos. In 1962, Lubich asked him to leave his profession and Parma, to devote himself full time to the Movement. He moved to Loppiano in 1966, studied canon law and theology at the Lateran in Rome and was ordained to the priesthood in 1973.