A trip from Valdarno and Loppiano to the borders of Ukraine to take some families back. The account and impressions of one of the mission drivers, Rosario Ranno, a resident of the citadel.
Rosario's first impression is one of "utmost tranquility and apparent normality, despite being only a few kilometers from the Polish-Ukrainian border. No noise of clashes, no glow of war, only columns of military and rescue vehicles on the roads. Outside the reception center a group of volunteers and a police truck were stationed. The sports facility was adapted to accommodate Ukrainian refugees." Second impression: "Inside the center are 300 cots lined up and decently ordered plus a large table with necessities for snacks. Everything is well organized, thanks to the volunteers. So many people are there with no history in common, except the tragedy of war. Silent sorrow is on their faces but with much composure."
We are in Tomaszow, a Polish town at the level with the Ukrainian town of Lviv. Rosario Ranno is a citizen of Loppiano, who was part of a quartet that set out to take some families and bring them to Valdarno. Caritas and the community of Ukrainians in Montevarchi had made contact with the reception center. It is a journey of 3,600 kilometers in total. The intermediate stop on the outward bound is in the Polish city of Katowice, where they were hosts of the men's focolare. Along with Rosario, there were the head of the New Horizons community in Montevarchi, a volunteer driver and the mission leader, Graziano, chairman of the Ukrain-Aid committee. The journey was smooth, with no inconveniences for them or for the minibus.
"While we were at that center, word came that a couple with four children wanted to come with us. We were going to pick them up at a center 40 kilometers away." Housing for a nucleus of six is not easy to find, but the one prepared in Loppiano could fit perfectly. But here was the surprise. "There were actually seven of them," Rosario continued, "There was also the grandmother. What could we do now? Break up the family? Impossible. The children are small, so it would not have been difficult for them to all fit in."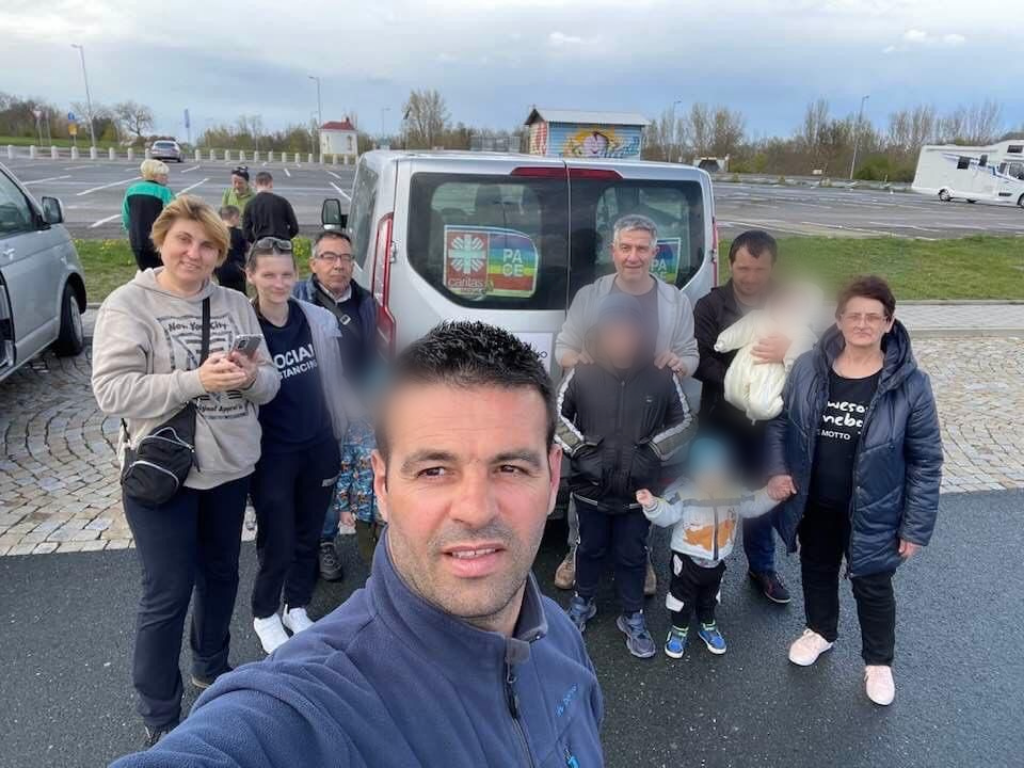 Departure is set for 5 a.m. on the third day after their arrival. "Leaving with us are a young mother with two autistic children and three middle-aged ladies. Then a slow-paced 86-year-old man wanted to join his wife and daughter, who are residents of Turin. But we can't get that far." What do they come up with, then? The person from New Horizons phones the community director in Bologna. He is willing to meet them at the Bologna highway exit and take the elderly Ukrainian to Turin.
"Intermediate stop on the way back is Slovenia. Here we were met with a warm and caring reception at the Mariapolis Center in Planina. And on April 25 was our arrival at our destination." The trip was financed by the Valdarno Ukrain-Aid Committee, which brings together charities and private citizens, and the Valdarno Bank. The parish Caritas are ensuring delivery of basic necessities to the refugees. Rosario, a Sicilian from Caltagirone (Catania) who arrived in Loppiano with his wife, Ornella in August 2015, is ready for another trip. "I am very grateful," he points out, "to those in charge of the citadel for allowing me to make this trip."