In a world that is always changing, amid new challenges, weaknesses and potential, keeping up with the latest strategies is a necessity for every business. The cycle of training classes offered by the Economy of Communion's E. di C. SpA SB and Aipec for April to October 2021, is designed for all those who want to take advantage of this period of uncertainty and new possibilities,  to strengthen the values that drive their business.
Using an active learning approach, the afternoon intensive training classes will deal with a variety of topics, core knowledge and skills such as: management of talent and human relations and conflict resolution;  management  of privacy; modelling and automating production and sales processes; communicating to the world of emotional intelligence for an effective positioning of one's products or services and brand uniqueness.
Therefore, the course will provide both the "know-how" and the "how to" that is immediately useful for improving performance of management and personnel, transferring addresses, cultures, business processes related to: leadership/strategy/management, administration, digital transformation, marketing/ communication/and sales. The training will focus on the human person around whom the whole economic system revolves as an entrepreneur, collaborator, supplier, consumer and, beyond that as the community of stakeholders with whom we interact.
Finally, it will conclude with a single sectoral training course, aimed at exploring new forms of tourism, combined with environmentally friendly agriculture and the concept of integral ecology.
It is possible to attend the whole course or individual classes. An introductory lesson to the entire training cycle will be held on Friday, March 19, 2021 from 6 to 7 pm by professors Giuseppe Argiolas, Rector and Professor of Management at Sophia University Institute and Gabriella Baldarelli, Professor at the Department of Business Sciences at the University of Bologna, with an interesting study on Reciprocity and the Culture of Giving in a Company.
In summary
Why join this training course? To have a practical toolbox that will help to manage business activities better.
Why have we at E. di C. SpA and Aipec organized these courses? To offer a specific and innovative training that is distinct from everything else on the market: each course aims to combine technical skills with a basic approach that places people and generative relationships at the center, as a winning response to the major challenges of today – and tomorrow!
The course will be available on-line on the Fridays listed from 15:00 to 19:00 pm.
Registration fee for each course: € 47 (VAT included).
For Aipec and EoC SpA shareholders: € 42 (VAT included).
The courses will be activated with a minimum of 20 students.
A certificate of participation will be issued.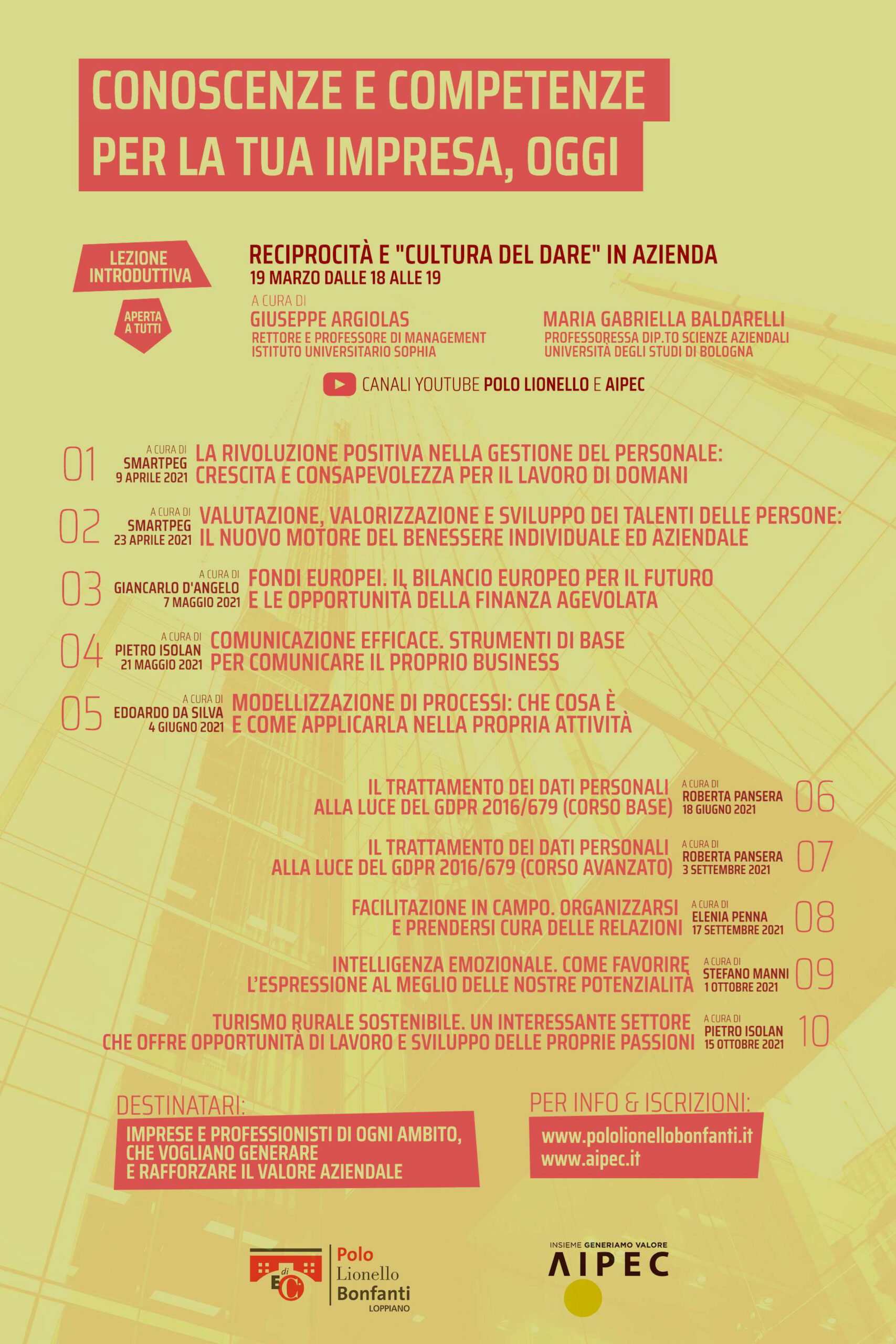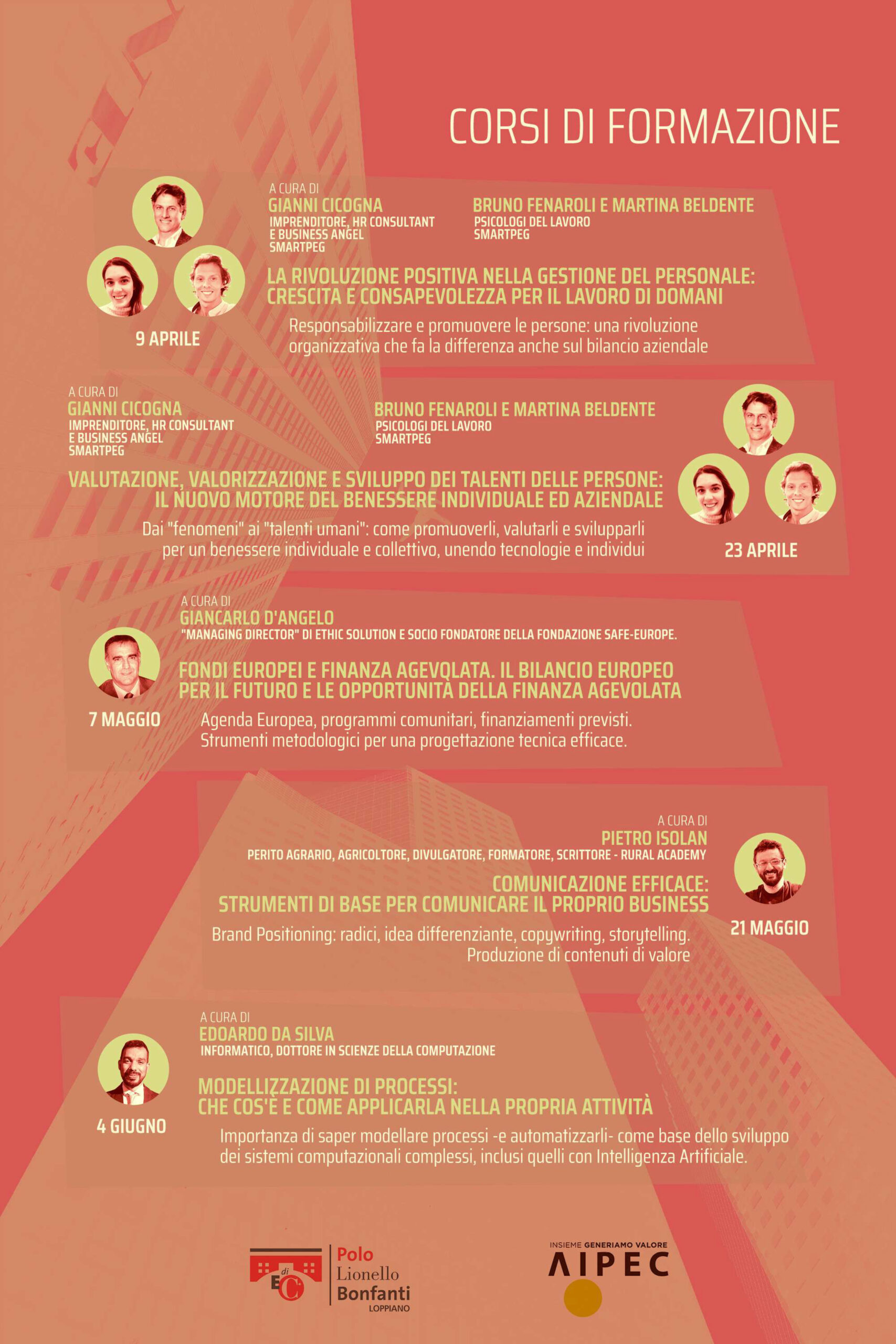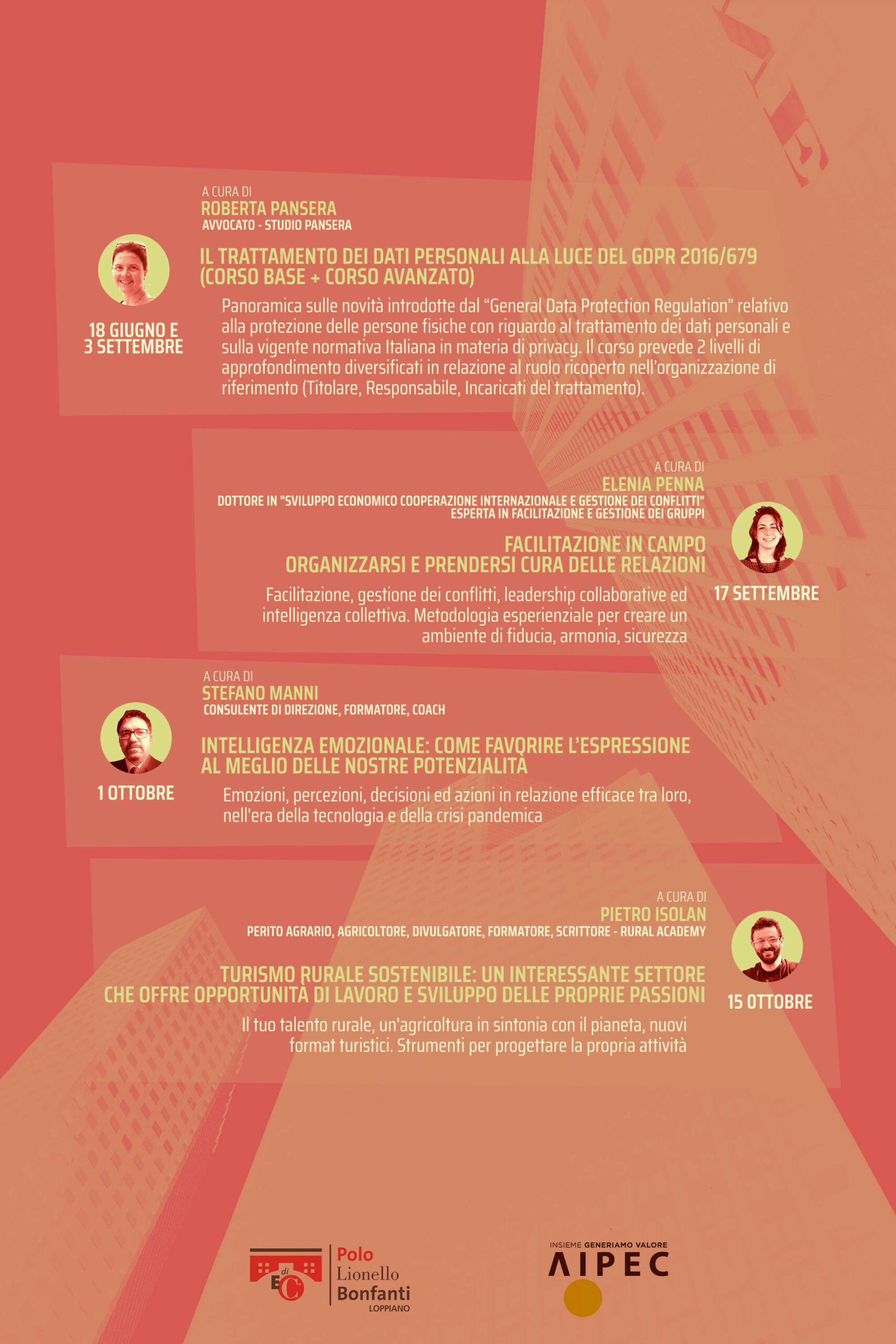 To follow the introductory lesson: