On Sunday, Feb. 26, 2023, with congratulations from Nobel Laureate in Physics Prof. George Fitzgerald Smoot, Professor Marco Bersanelli, astrophysicist at the University of Milan received the 2003 "Renata Borlone Woman in Dialogue" award.
A ceremony was held on Sunday, Feb. 26, 2023, to award the "Renata Borlone 2023" prize in its fifth edition to Professor Marco Bersanelli, professor of Astrophysics and Mechanics at the University of Milan and collaborator of the National Institute of Astrophysics (INAF).
The award, named after the Servant of God Renata Borlone, who was co-responsible for 23 years of Focolare Movement's international citadel of Loppiano, and the award is promoted by the Renata Borlone Cultural Association, in collaboration with the Sophia University Institute. It is awarded to scientific research scholars, as an honorary recognition of those who have distinguished themselves in this field and, at the same time, have expressed their humanistic appreciation of it.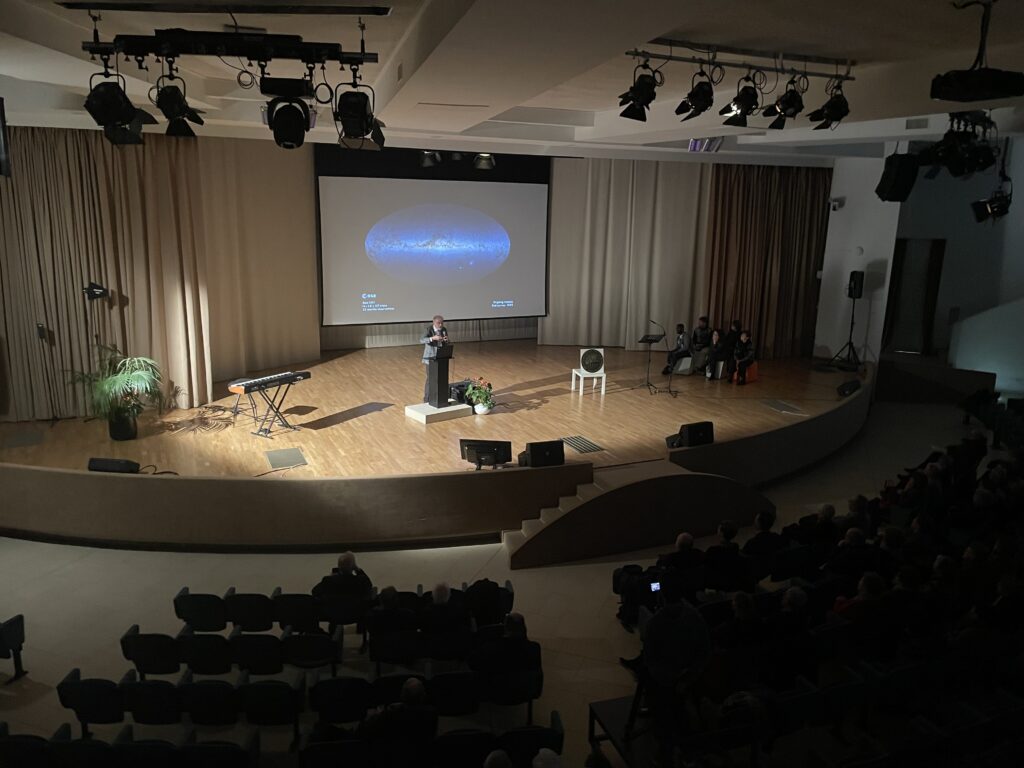 Dr. Sergio Rondinara, Professor of Epistemology, Cosmology and Ecology at Sophia University Institute and member of the scientific award committee, read the motivations that led to the choice of  Dr. Marco Bersanelli: "For having cultivated and preserved, throughout his brilliant scientific career in the field of astronomical and cosmological research, his stress on the transcendent as a typical characteristic authentic knowledge; and for his sincere interest that has been shown in the humanistic aspects of his scientific enterprise and for having then presented them with depth and clarity to the general public through his essays."
"This prize," commented Dr. Bersanelli, "captures a great interest of mine in the humanistic aspects of the scientific enterprise:  the desire that the surprising beauty of Creation, which is gradually revealed through scientific research, is a newer and deeper opportunity to praise the Creator. Renata Borlone's witness supports us in this vision".
Congratulations also came from Dr. George Fitzgerald Smoot, 2006 Nobel Laureate in Physics, who wanted to be present with a video message, "Congratulations, Marco Bersanelli, on the Renata Borlone Woman in Dialogue 2023 Prize, you deserve it and I am happy for you to receive such an honor!"
Dr. Bersanelli had worked in the research group of Dr. George F. Smoot between 1986 and 1995 at the Lawrence Berkeley National Laboratory of the University of California, Berkeley.
Prof. Günther Hasinger, Scientific Director of the European Space Agency (ESA) also wished to offer his congratulations: "He was an instrumental scientist of the low-frequency instrument in ESA's Planck mission and played a key role in its success such as the confirmation of the flat universe, the precise determination of age, contents, Hubble constant and other parameters. Professor Bersanelli is well known to the Planck and cosmology community for his humanistic approach to science and has always been a passionate communicator. We are therefore very pleased that he is being recognized with the Renata Borlone Award.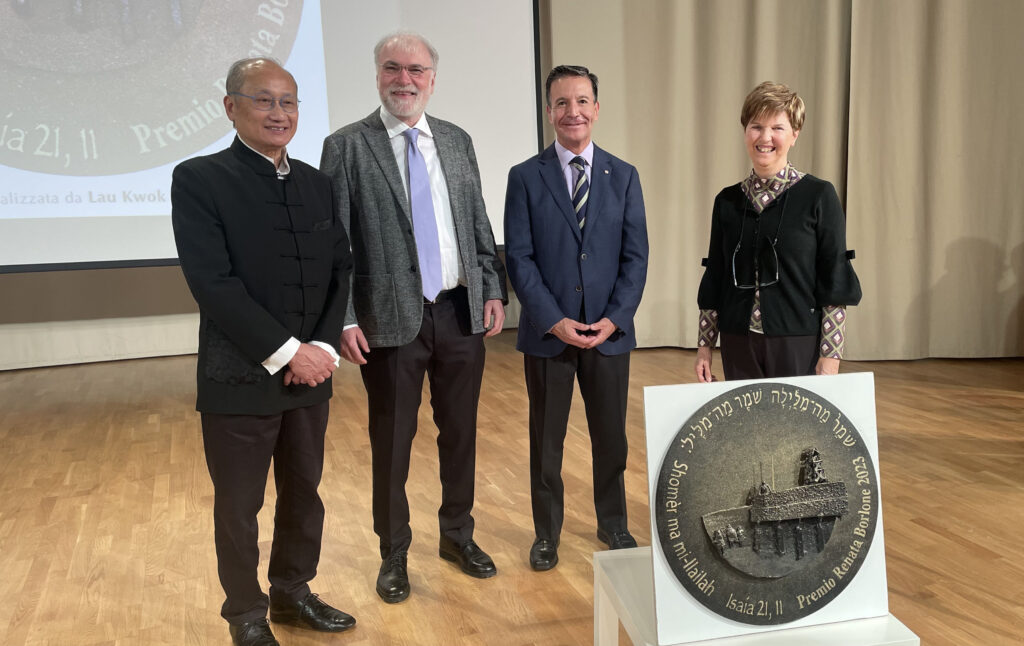 The Renata Borlone Award 2023 sculpture was made by Hung, an artist of Chinese origin and resident of Loppiano. It is a 50-centimeter diameter, low-relief roundel made of iron and titled "Shomèr Mamìyala" (Is 21:11). Shomèr, in the Isaiah passage, is a sentinel-seer, a guardian-custodian, a protector. He is a universal figure and an emblem of true prophets, poets, saints, artists and scientists.
Dr. Bersanelli, is currently involved with observational cosmology, particularly the observation of the early universe through the Cosmic Microwave Background. He has taken part in two scientific expeditions to the South Pole and collaborates with the European Space Agency (ESA). He was one of the main scientific managers of ESA's Planck space mission, launched in 2009, the results of which made it possible to estimate key cosmological parameters with unprecedented precision. He is currently engaged in next-generation experiments to reveal the trace of primordial gravitational waves in the polarization of the cosmic background. He has authored more than 300 papers in astrophysics journals and a 20-year academic track record of teaching and training young researchers in Physics and Astrophysics. He is also Scientific Director of Euresis (Association for the Promotion of Scientific Culture) and president of the Sacred Heart Foundation for Youth Education.
Also present at the ceremony were the Mayor of Figline and Incisa Valdarno, Giulia Mugnai, and Councilman Pasquale Marino, representing the city of Civitavecchia, Renata Borlone's hometown, which sponsors the Award together with Figline and Incisa Valdarno.