Recently departed from Loppiano, Fr. Jonathan Cotton, an 80-year-old English Benedictine, has returned to his abbey in Ampleforth, Northeast England bringing with him an experience he wanted to share with us.
"Nine months and two weeks, that is, from Sept. 28, 2022 to July 11, 2023," Father Jonathan Cotton emphasized, wanting to remark on his experience, "This time in Loppiano was fundamental for me." He turned 80 on May 9 and was celebrated by the religious present with him at Claritas, along with the best wishes of the entire little town. But it is certainly not the 80th birthday that has marked the life of this Benedictine, who entered Ampleforth Abbey, near York, in the North East of England, in 1961. Fr. Jonathan is a jovial person, with a frequent smile, unfailing humor, and the ability to laugh at himself.
But why was Loppiano "fundamental" for a monk of long experience? "I discovered who the God who loves me immensely is. In a way I already knew, but now I understand him more clearly. He remains a mystery, but I have understood Him. It is like a mystical experience. I have seen God in the eyes and behavior of adults, teenagers and children here in Loppiano. Even in the Word of Life meeting group." Then he clarifies, "Of course it was not like that every day, but many times it was. And all the different people in Loppiano, including the five religious who lived with me at Claritas, are part of my experience."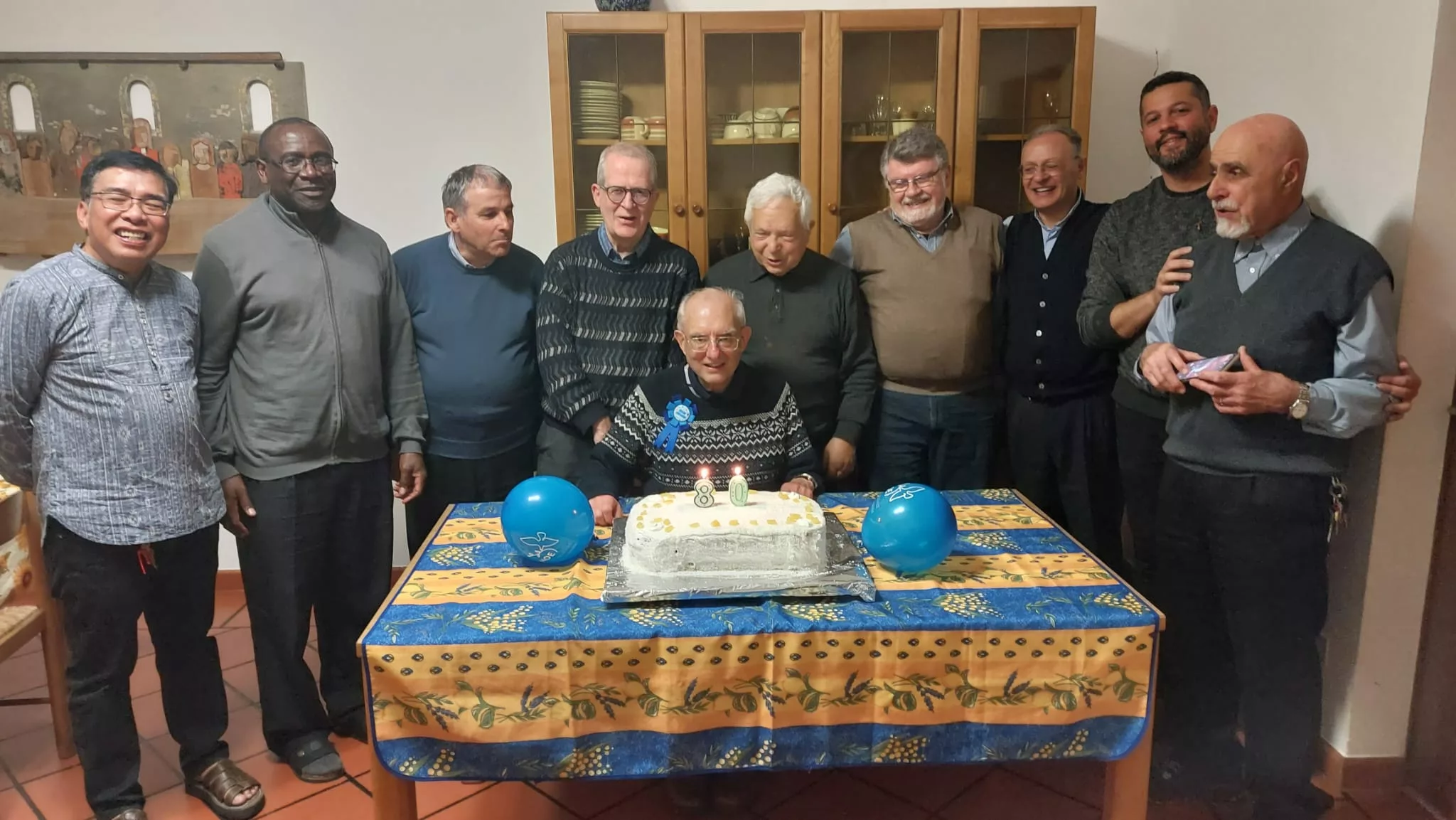 In August 1972 he participated in the Mariapolis held in Manchester. Among the participants, a good number were non-Catholics. He was struck by the fact that "these people knew God better than I did.". He smilingly admits, "I was angry with myself, that I had studied so much." He had been ordained a priest a year earlier and had been a monk for 11. A real lesson. "I had seen the Gospel lived in daily life and with everyone. From that moment everything changed. Even as a monk." The fact remains that even before the Mariapolis he had been impressed by one of his confreres, Fr. Maurus Green. "He had a good character, but above all he had something more than the other monks." Chiara Lubich's spirituality of unity animated him.
"In Loppiano I experienced that the love God has for me is pure and beautiful. I experienced great tenderness, mercy and perfect purity. It is like the love I received from Maité, the 6-year-old girl in the wheelchair. She had no words, because she cannot speak, but when she looked at me with her eyes it was pure love, there was no interest or manipulation."
His stay in Loppiano made him better understand one fundamental thing. That "if unity were easy it would not come from God." At the same time, he understood that "the place where we are given the grace to face difficulties is within our vocation, there where we live, in the small group that is the core of our life. It is there that it is most difficult to live with others on a day-to-day basis, but it is a vital part of our 'ongoing formation.'"
Fr. Jonathan's last confidence is surprising because it concerns what most characterizes a monk. "I learned best how to pray to God personally and together with others. In particular, in sharing meditation. In short, I started to realize something that should be obvious to me if you think about it. Jesus taught us to always pray. So we should always be joyful. This is God's joy, not a human joy. I think I grew in this direction during my time in Loppiano, because I experienced the sense of mutual love and felt the presence of Jesus in the community."