The surroundings of Loppiano
An experience of beauty
Loppiano lies just over thirty kilometers (18.64 miles) from Florence, the cradle of Renaissance culture and art.
The international Focolare little city lies on a splendid green plateau, among vineyards, farmhouses and rows of cypress trees. Behind it are the Chianti hills, facing the Pratomagno mountain range. We are in the upper Florentine Valdarno: a place rich in art, beautiful landscapes, and traditions, with a remarkable industrial and commercial vitality, all part of the Comune di Figline e Incisa Valdarno.
Photo courtesy © Mario Egman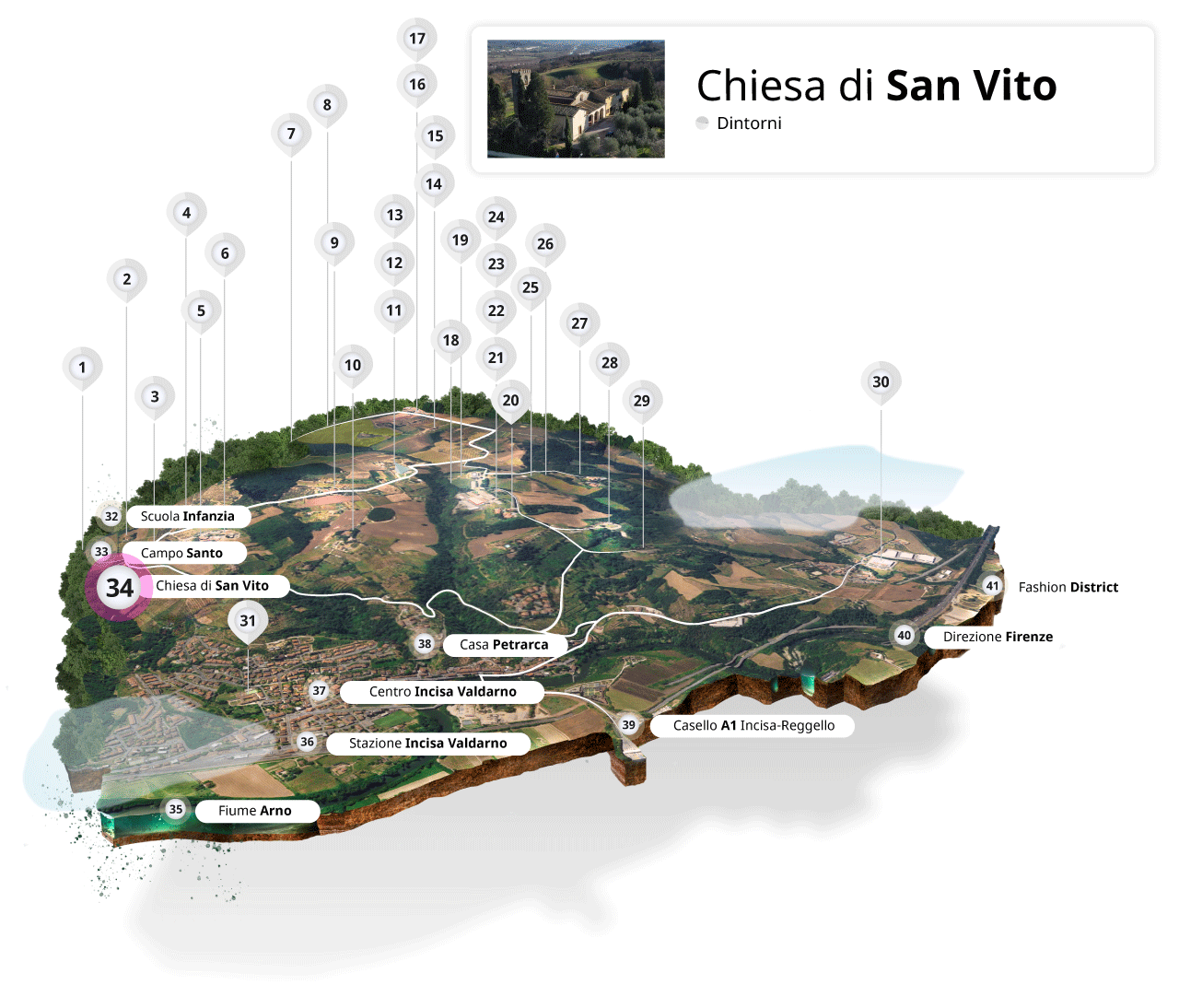 11. Auditorium
32. School
33. Cimitery
34. San Vito Parish
35. Arno River
36. Railway station
37. Incisa Valdarno
38. Petrarca's house
39. Highway A1
40. Florence
41. Fashion District
Here in Valdarno some of the greatest artists and authors of all time were born or crafted their art, including: Dante Alighieri, Francesco Petrarca, Leonardo da Vinci, Masaccio, Poggio Bracciolini, Benedetto Varchi, Marsilio Ficino.
About eight kilometers (4.97 miles) from Loppiano, towards Arezzo, is the town of Figline, of Etruscan and Roman origins. Here, the well-known humanist Marsilio Ficino was born. The elegant central square is dedicated to him. It has a typical shape of the "market", bordering palaces of the most important local families, the houses and arcades, once used for the selling of goods.
Incisa is a village that has preserved intact its medieval charm. Here, until the age of seven, the poet Francesco Petrarca lived with his family. His house, in the upper part of the village, can be visited, and after skillful restoration, it has become a cultural center that hosts exhibitions, training courses, and workshops. Also to be discovered is the Church of Santi Cosma e Damiano, with its imposing portico.
Want to come in Loppiano?
How to get there
Coordinate GPS (43.66630392, 11.42941189)
By train, the nearest station is Incisa Valdarno, only 2 km (1.24 ml) away, frequently connected through Florence with the Milan-Rome high-speed line. A little further on, 8 km (4.97 ml) away, is the station of Figline Valdarno.
By car, the highway exit "Incisa – Reggello" on Highway A1, is only 3 km (1.86 ml) from Loppiano.
By plane, the two corresponding airports are Florence Peretola or the "Galileo Galilei" in Pisa; then proceed by train.