Ever since 1990, January 17th has been a day for celebrating the growing dialogue between Catholics and Jews in Italy. This date is also observed at Loppiano with an annual appointment with the emeritus head of the Jewish Community of Florence, Rav Joseph Levi. This year the celebration could not be held in person, so we offer this interview with Rabbi Silvina Chemen from Buenos Aires, who is a great friend of Loppiano and will take part in the upcoming General Assembly of the Focolare Movement as an invited guest.
In the booklet that has been prepared for this year's event, we read: "Ecclesiastes (Hebrew:Qohelet) is certainly a book that has a value for today. Its author is a wise man whose goal is to explore the world and see if there is a meaning to life, while embracing the reality as it is presented to us." We are in the midst of a terrible health crisis that has aggravated and highlighted other crises in which we are immersed: the ecological crisis, the social crisis, the economic crisis. Can you tell us how you see the timeliness of this book?
From my humble prospective, the Book of Qohelet is a reflection on the consequences that having believed that materialism, consumerism, exploitation of the environment for one's own benefit, become the destiny of the human race. A plenipotentiary ruler, authoritarian, millionaire, successful, has grown old and begins to take into account how little he has dedicated to his life in terms of spiritual and existential thinking. And so:'I applied my mind to study and to explore by wisdom all that is done under the heavens. What a heavy burden God has laid on humankind!' (Ecclesiastes 1:13).

 When his physical body draws near to its end, he realizes that what will sustain his life is the strength of the spirit. It is then that he discovers that wisdom is not found in jewels, nor in his palaces. He senses his distress. But, in my opinion, this is a distress that connects him to a deeper reality. Obviously, this awareness produces pain, as the king himself affirms, but it also generates a deeper awareness, a connection with the finiteness of reality. 'Vanity of vanities, all is vanity' (Ecclesiastes 1:13), the author will say. Vanity is everything that failed to bring anything significant to that moment in life. Grabbing on to what is material while ignoring the transcendent is an attitude whose usefulness will be very short-lived. You are confronted with the horror of losing every hope, of not having answers, of sensing that the future holds misery in store for you, depression, solitude; in summary, nothingness added to nothingness… 

King Solomon understood the lesson and share it through confession in the scripture: he connects with the spiritual and transcendental all that has eternal value, all that God has revealed. His pessimistic and fatalistic vision acquires a new tone, and the wise prince is not afraid to give the impression of contradicting himself when he says: 'Remember your Creator in the days of your youth, before the days of trouble come… Now all has been heard; here is the conclusion of the matter: Fear God and keep his commandments, for this is the duty of all mankind' (Ecclesiastes 12:1 and 13). The human race will never be sustainable if we do not exercise an attachment to the higher values: faith, doing good works, communitarian lifestyle, social justice… This is what makes us rich and enriches our life mostly, allowing us to come to a piece of what is eternal.
It will not be our goods that will stay recorded in the memory of those who come after us, but our good works, our humanitarian actions and gifts that will make us a "good person."
These long months of pandemic have placed this reality in front of us. A collapsed and exploited world has generated a virus that has made us all equal again. Young and old are dying, the poor and the rich. One person infects the others and, if we take care of ourselves, we take care of others. It took an illness to make us reflect on the value of life and the importance of social responsibility, to make visible the savage economic inequality that reigns on our planet.

There is a time for everything,'There is a time for everything, and a season for every activity under the heavens,' says Qohelet. Let's hope we will know how to understand his message in our own times.
What do religions have to offer to the human race that has been wounded by the pandemic?
I believe that the pandemic has restored to religions, their role which we should never have abandoned: that is, profound spiritual support, the accompaniment of one another in situations of pain. We have understood that shrines are not only the palatial temples that we know, but that even the homes of our faithful, to which we carried our prayers, our rituals and help of every sort. The value of the community as a network of containment, has returned to being vitally important. We, the faithful of different religions, have united as never before, to bring a message of hope in the midst of this pandemic. The crossing of our borders, through the social media, has made us come out of our cloisters and our small realities, to become visible in wider and more varied universes. Faith has been, and continues to be, an essential component in the passage through this challenge known as the pandemic. All of us religious leaders will have to be up to this task.
Around two years ago, you were at Loppiano. How would you describe this Mariapolis to someone who didn't know it?
Loppiano, just like Mariapolis Lia, here in Argentina, are concrete demonstrations of the fact that the prophetic vision of a redeemed world is a real possibility. This is not an experience of a handful of dreamers, disconnected from daily life. On the contrary! It is precisely in daily life that, if you live the simple/complex rule of respecting your neighbor as yourself, you can experience very encouraging results. A Mariapolis is living a humanity in communion, in a place which, by definition, has room for everyone. It is living a humanity in which faith does not paralyze, but rather puts into motion the best version of every individual. Loppiano is a living witness. But it isn't a museum piece. It's an invitation to believe that the speeches find their connection in the reality. That it is possible. Indeed, not only is it possible, but necessary so that this human race can recuperate its deepest reason for being.
We know that you have been invited to take part in the General Assembly of the Focolare Movement that will begin on January 24th, and that you're already involved in the preparation process. What does this mean for you?
First, I have to say that I'm not getting ready by myself. I've been lovingly accompanied since the first day I met you all and, above all, more recently, from when we thoroughly explored the responsibility of being invited to such an important event. I feel that you, my brothers and sisters of the Movement, have opened the door to deeper intimacy with absolute trust, born in Chiara and guarded by all of you. And honestly, my soul trembles and my eyes weep with emotion each and every time I enter into contact with this intimacy. We are two Muslims, one Buddhist and a Jewish woman who are sharing the honor, the privilege and the responsibility of being called in some way to represent our voices, but at the same time, being the voice of Chiara, of the united world.
From the day I met you, I experienced the glory in my heart of knowing that my dream of a united world have names and faces, countries and a common hope. And now I pray with you. We pray together. I ask of our God the light to make better decisions, to overcome difficult moments, so that we can guide all the members of the Movement towards a life of understanding, based on the message of the Lord of the Earth and of the need of this era.

I recall the words of the psalmist for these upcoming days:'Let the favor of the Lord our God rest on us; establish the work of our hands for us– yes, establish the work of our hands' (Psalm 90:17). Thank you for so much fraternity, love and trust. I hope I can live up to this call.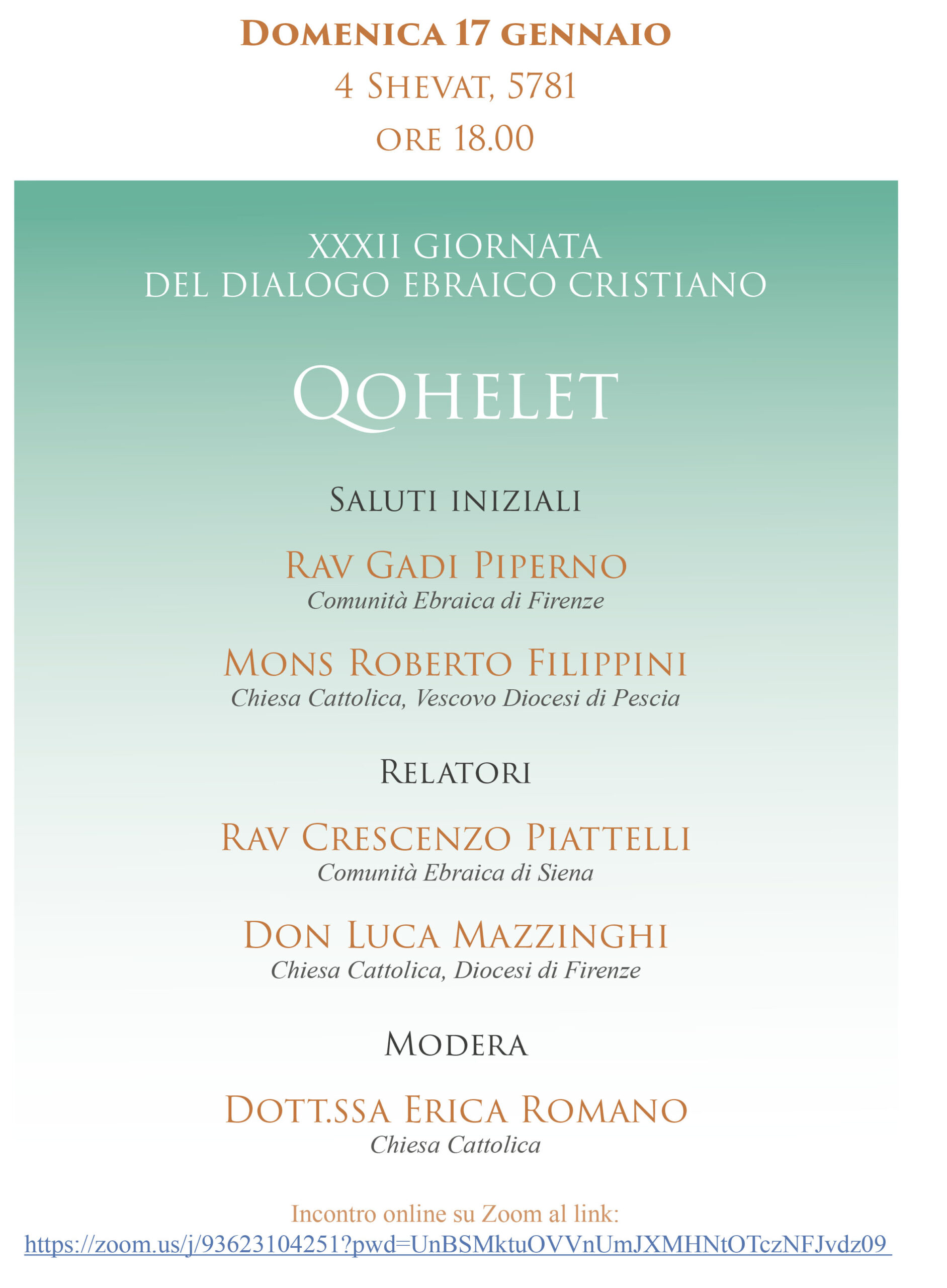 On Sunday, January 17, 2021 it will be possible to link up online to the initial preparation phase of the Commission for Ecumenism and Interreligious Dialogue of Florence. The meeting will include an exploration of the Book of Qohelet, beginning at 6:00 p.m.. Use this link: 
https://zoom.us/j/93623104251?pwd=UnBSMktuOVVnUmJXMHNtOTczNFJvdz09