Photos by: Ulrich Bobinger / pba
The "Centro San Vincenzo De Paoli" (St. Vincent di Paul Center) has been inaugurated in Augsburg, Germany. It is an innovative and ambitious co-residence project that places solidarity and care at the basis of social coexistence. On a bench in the green area of the Center, there is an iron statue by Lau Kwok Hung, depicting St. Vincent De Paul seated..
It is located in the district of Göggingen, not far from the famous University of Augsburg, the ancient Roman City of Augsburg. It is called "Centro San Vincenzo De Paoli", and includes 62 barrier-free housing units, medical offices, a café that focuses on the inclusion of people with disabilities, a nursery, school support, a counseling center and much more. It was realized thanks to the desire and efforts of the Sisters of Charity of the Congregation of St. Vincent de Paul of the Mother House in Augsburg, who saw the possibility of actualizing the message of their founder in the project, creating an intergenerational co-residence center, under the banner of solidarity and mutual care, open to those in need.
Lau Kwok Hung also contributed to the project. He is a Chinese artist and Loppiano citizen, who made an iron statue of the saint of charity, which now sits on a bench in the green area of the Center. "This is a magnificent location for the placement of the St. Vincent sculpture," commented the artist during the inauguration, which took place on September 24. "Here, the play of light and shadow and the balance between nature and architecture are of great harmony. But I would say more: there are no fences, no walls, no closing bars. This space is actually a "threshold": an interface between inside and outside, between the neighborhood and the city, between intimacy and openness. One enters and exits from here. It is the place of welcome but also of farewell, of viaticum. Vincenzo here seems like a guardian, a protector, a sentinel. A guardian of time and space."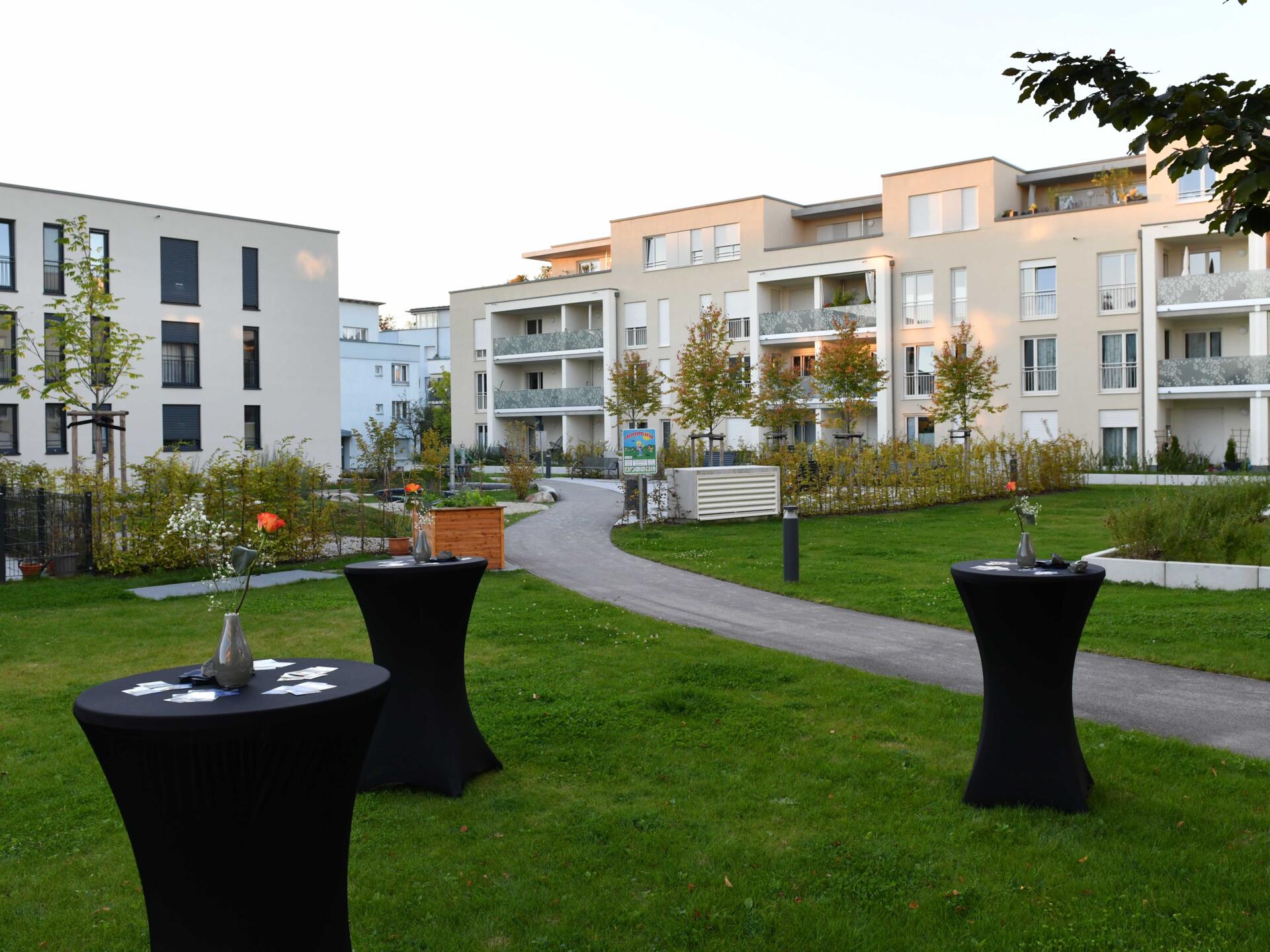 Photos by: Ulrich Bobinger / pba
To create the work, Lau Kwok Hung not only studied the life of St. Vincent and his works at length but, he says, "First of all, I tried to renew myself in my way of loving and serving the poor." In addition to a gaze capable of attracting many to sit down and engage in close dialogue with him, the saint holds a basket on his lap. A reminder," Hung explains, "of the miracle of the multiplication of the loaves performed by Jesus to feed the crowd. It seems that his command to the apostles: 'Give them something to eat yourselves' is the beginning of the 'organized charity' that, over the centuries, St. Vincent and many other great founding saints have re-invented in a big way, with creativity, fidelity and commitment."
During the unveiling, several people sat beside the statue on the bench, concerting a small play in dialogue (in German) with the saint, as seen in the video below:
"Like Vincent," Hung concluded, "so all of us, throughout life, come across countless other wayfarers, perhaps more miserable and poorer than us (sick, orphans, prisoners, homeless). Works of charity are like a kind of divine alchemy where sorrows become gold, wounds become blessings, and misfortunes become providence and promises. Here, too, may every wayfarer stop and ask the question, 'Tell me, how much (time) is left until dawn?'"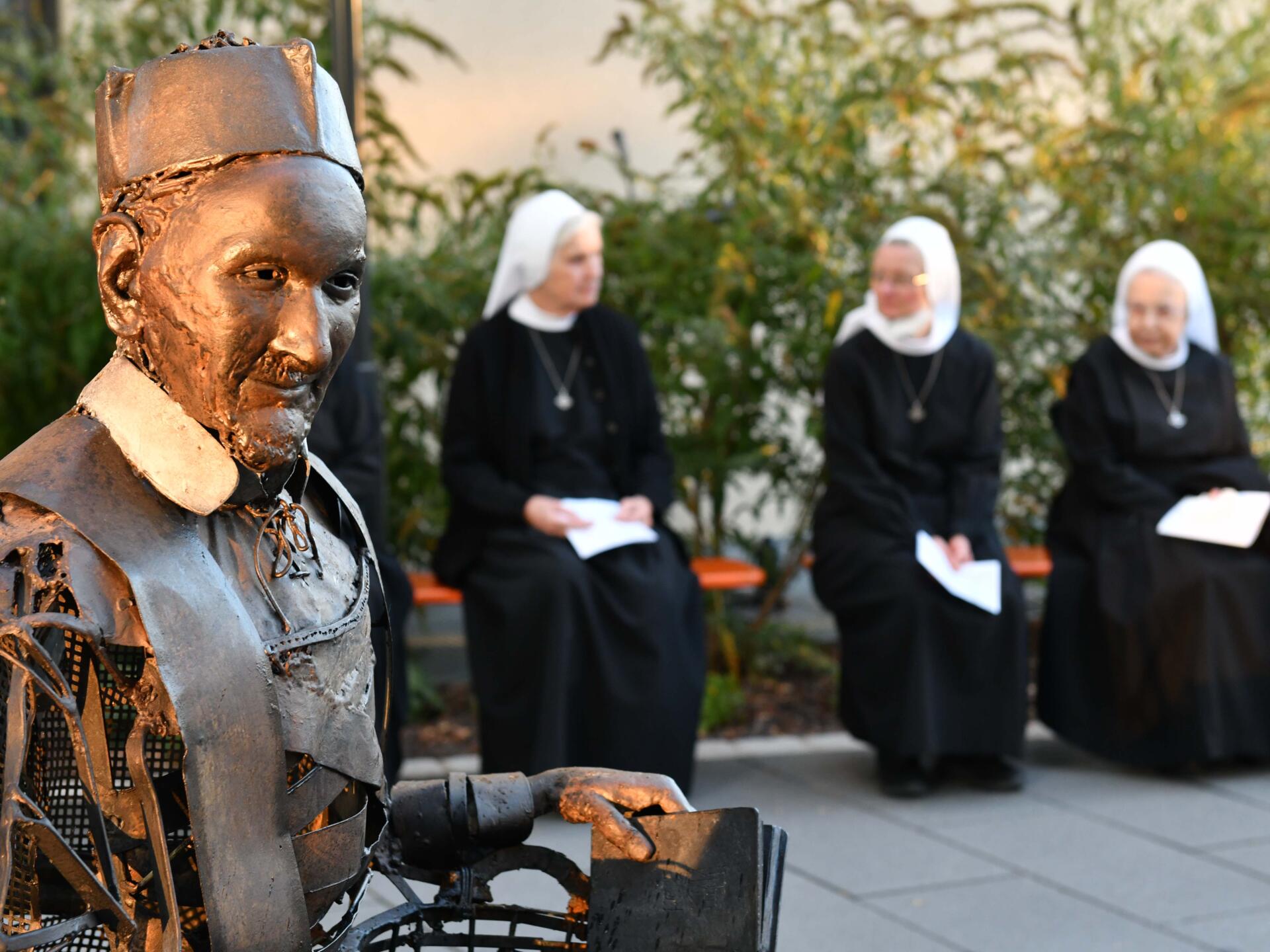 Photos by: Ulrich Bobinger / pba