Sunday, June 19, at 10:30 a.m., the inauguration of the new playground in Loppiano, attended by Giulia Mugnai, Mayor of Figline and Incisa Valdarno.
The "Nicolas Crivelli" playground in Loppiano was built thanks to the generosity of many children and adults.
It is located close to San Benedetto Hall, surrounded by young oak, cypress, cork and linden trees planted a few months ago. Each construction is made of sustainable materials. There are swings, a horse spring rider, a hexagonal gymnasium, a tower and an exercise trail. In short, everything you need for an inclusive and accessible play experience.
The playground, per the wish of the children of Loppiano, is named after Nicolas Nicodemo Crivelli, a peer of theirs from Figline and Incisa Valdarno. Nicolas passed away prematurely on June 5, 2015, at the age of 5, due to a terrible disease: spinal muscular atrophy. He attended preschool in Rignano sull'Arno, and the citizens of Loppiano were his big family. Today he is buried in the citadel's small cemetery.
Welcoming visitors at the beginning of the path in the playground is the il "Peace Cube", which is inspired by the points in "The Art of Loving" that Chiara Lubich had proposed to the children of the Focolare Movement with a cube. On its faces are not numbers but phrases that help build peaceful relationships among all. The goal is to promote positive relationships by enhancing children's pro-social skills and strengthening those of adults. Once the Loppiano cube is "rolled," everyone, big or small, can engage in putting into practice the phrase that one happens to get: "I am the first to love," "I love everyone," "I love the other person," "I listen to the other," "We forgive each other," "We love each other."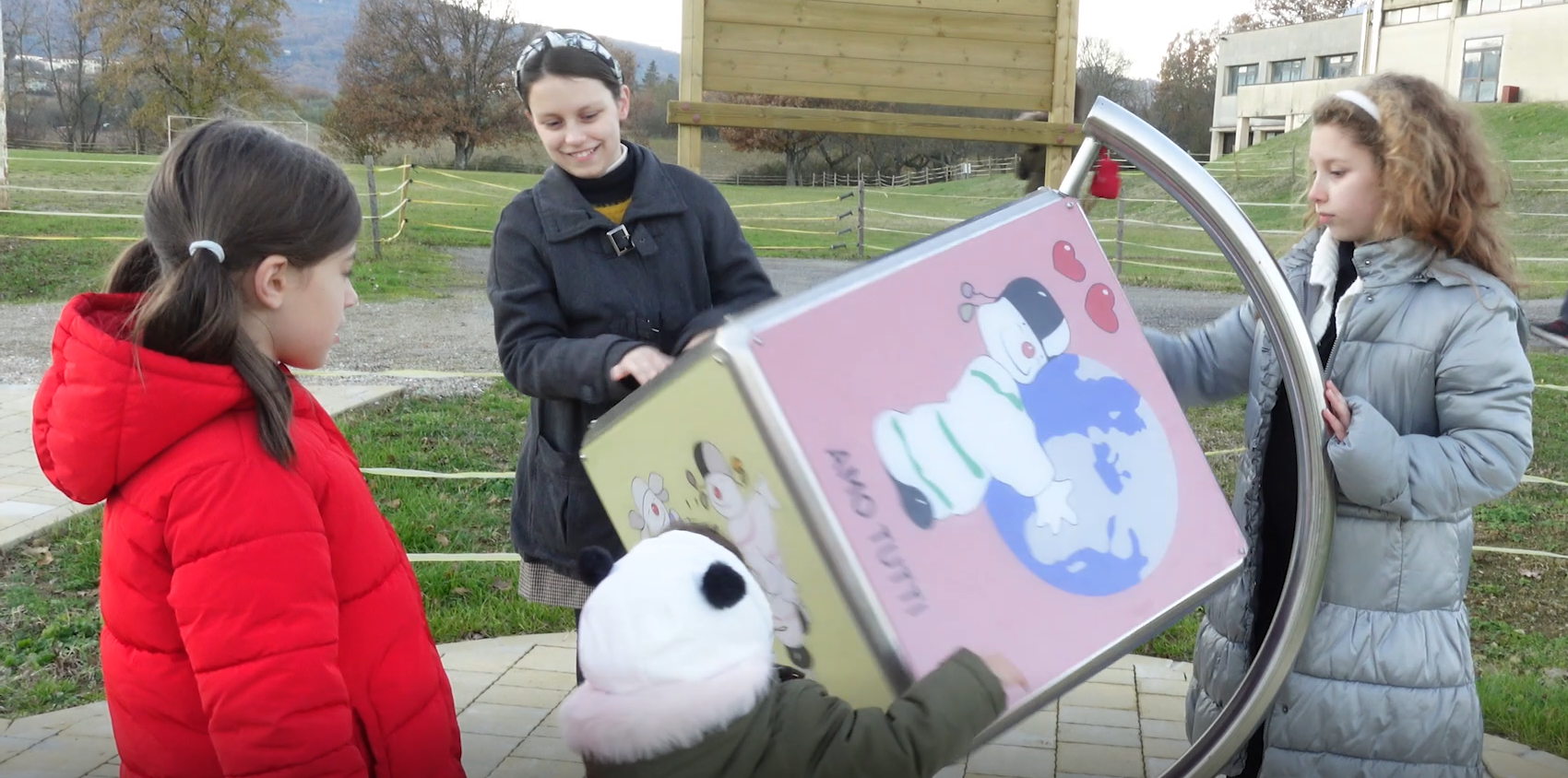 The protagonists of the cube and several installations surrounding the area are two little clowns, Gibì and DoppiaW, the cartoon characters created by Walter Kostner. With their gimmicks, they make young and old discover the wonder of living by loving their brothers and sisters and by loving Creation.
The "Nicolas Crivelli" playground in Loppiano will be inaugurated in the presence of Mayor Giulia Mugnai on Sunday, June 19, at 10:30 a.m..
We hope that in this playground many children and visitors from the area may be able to experience the carefree joy of play which, as Maria Montessori said, "is the child's work."